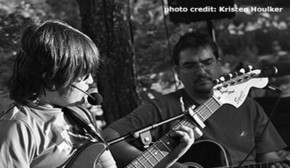 So here we are at just about the end of July, it is hot out there but nothing stops the music. It is so good to see you all here today as we have The Jewell Thieves, a father and son, independent, Boston-based alternative rock band as our weekly guest. I am truly all about family so this is going to be fun. Before we get to that lets check on music news. First up, new figures released show that Germany's recorded music market grew by 3.6 per cent in the first half of 2016. Total revenue from the sales of CDs, vinyl, downloads and the use of streaming services increased in value by a total of 3.6 per cent over the same period in 2015. Audio streaming was the key driver for the growth, with revenue from premium subscriptions and ad-supported services, such as Spotify, Apple Music, Deezer, Napster etc., increasing by 88 per cent. In other news, The global music streaming market is expected grow at a CAGR of more than 13% during the forecast period, according to Technavio's latest report. Music streaming was launched in the UK and the US in 2003, and these regions account for more than 50% of the total revenue generated by the global music streaming market. Now lets get to The Jewell Thieves. I have been doing Skoped Out and every band/artist has their own story. As a father to 2 amazing boys this group struck a chord. First they make amazing music, they are from Boston, and this is a family. Join me today as Mike Jewell speaks on everything from summer vacation spots, being in a band with your son, embarcing your children's passion, and much more!
Stoli: Where are we talking from today and how is summer so far?
We are just outside Boston in the biggest town in Massachusetts, Framingham. Summer is good so far. School is out so schedules are a bit weird, so there is a new adjustment for that, but more time to write and play music. We are working on new stuff for the fall, which has been very interesting because Nick's voice is starting to change. It is getting deeper. I was so used writing with his high voice that I find I have to adjust to accommodate this new mature sound.
Stoli: Do you have any plans for any summer getaways and where do you like to go and relax?
We take two big trips in the summer, one to the coast of Rhode Island where we take in beach activities and jam with more musicians in the family. The other is a camping trip where we break out the camper and jam around the campfire. Both are very fun because it is all about family and being together.
Stoli: How did the group come to be and how did you get the name of the band?
When Nick was in 4th grade, it started out as a fun side project. He had been in a number of school plays and parents were coming up to me saying, "Your son has such a great voice, you should do something with it." At the same time, he also wanted to learn guitar, so the opportunity to combine the two presented itself. Because of him, after years of not playing, I started again. It was the creative outlet that I needed, and the opportunity for us to do something together.
The name started with our last name Jewell and we wanted to create something fun with it, using a theme. Being Thieves or Jewell Thieves became our theme and it helped us focus on putting together our artwork, creating a Web site. When we told people our name, they would always respond, "cool name" so we stuck with it.
Stoli: When did your son show you that he had a real passion & talent for music?
He has always been and still is, interested in music. He asked me to teach him guitar in 3rd grade and he still practices regularly now. I would show him something and he would practice. I never had to push him to do it. Today, if he wants to learn a song, he'll find a YouTube video or two and learn that way.
Being a musician myself, I introduce him to all types of music; jazz, rock, "old guy" rock, heavy metal, alternative, punk, classical, it doesn't matter. I have always drawn inspiration from many different places, and it has come from surprising places, so I want him to have this same experience without focusing a particular type of genre. You never know when something will inspire you.
Stoli: I love how this is a father-son duo. How has music helped bring you closer in life as well?
It gives us something we both enjoy talking about and allows me to interject some practical life lessons without sounding preachy. When we work on a new song together, we work the process together: writing a song, recording, mixing, marketing, discussing music and creating sounds. During these processes, we talk about many aspects of music; the time it takes to create, not everyone is going to like our music, but don't let it stop you from creating, why marketing is important, what success means and why, along with other things I've noticed in the music industry and life in general. I want him to understand that there is more to it than coming up with a catchy tune.
Stoli: How much time per week do you get together to play music and are you all under one roof?
Nick practices almost everyday. He also plays in another band with kids closer to his age and they are always picking songs and learning them. I love this because it gives him the opportunity to play with musicians besides me and learn something different.
We practice together as often as possible, but we make the time because it is fun. It also helps creatively when we are just sitting around jamming on guitar, bass or banging on the drums. Many ideas have come out during the jam time we spend together.
Stoli: I love your song, "Drive Alone Endless Highway." When did you create that song and what is it about?
I always liked the lyrics Jim Morrison wrote, "Let's swim to the moon, Let's climb through the tide" from Moonlight Drive. I had written down these words around year ago in my journal "I need to see the rhythm of your heart, you need to feel the sounds come apart" with that song in mind. Nothing really worked with it. Nick was messing around one day with drum loops while learning some new music software. We liked the way the way it sounded and kept building on it. The lyrics I had written were working with the music and it just came together. We published it in 2015 on the EP The Back Door Was Open.
Years ago I read the book Fear and Loathing in Las Vegas by Hunter Thompson. The lyrics I had written reminded me of the opening chapter of when Raoul Duke and his attorney, Dr. Gonzo were driving down the highway in their convertible towards Las Vegas hallucinating. While writing this song, I was thinking of what it would be like to be driving on the highway in the desert, not exactly in the right state of mind, with a cool kind of groove going on in the background, looking for the right person drive with.
Stoli: When you and your son consume music what do you prefer such as radio, streaming, downloads, Soundcloud, etc.?
Speaking for myself I do not have a specific preference, as I am always scanning the dial, streaming or when the opportunity is there, digging in at a record store. I love discovering new music, so I mostly listen to independent radio. For example, as I was flipping through the local radio stations, I caught a Boston DJ on MIT station 88.1 recently raving about this guy Jason Isbell and his song Children of Children. Because I was driving I could not look it up right away, but I found the song when I got home on YouTube. I'm glad I took the time because it is a great song.
Nick, he finds a lot of new music on YouTube, iTunes and independent radio. He is always sharing new music with me. He recently had me listen to Goblins From Mars. This band takes popular cinema scores and turns them in to dub-step music. It is actually pretty cool.
Stoli: Being that you are based in Boston do you get to play out live in various music venues?
We would love to perform more, but due to Nick's age, turns 12 in July, our options are fairly limited. However, when the opportunity presents itself, we always take advantage of it. We are also experimenting with live streaming services and as we build up our fan base, of which half is outside the country, we think this will allow us to perform live more and reach our fans.
Stoli: As a father what advice can you offer about how important it is to be involved and active in your child's life?
It's so important to be involved on many levels, but mostly for better communication. I don't want any of my kids to think they cannot talk to me about anything and feel judged. Music gives us the ability to talk to each other on equal terms, there is no right or wrong and it is good to be creative and share ideas. Things come up during our process, especially when we talk about other musicians, we can talk about it. I'm realizing that kids know more then you think, especially with so much access to information. It only makes sense to make sure you know where their heads are. As I say each time one of them walks out the front door without me, "make smart decisions".