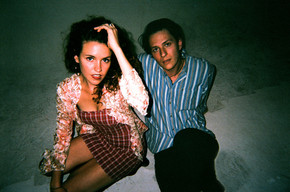 Burgeoning London independent label 37 Adventures (JONES, Deptford Goth, salute) have added another string to their bow, with the signing of GEOWULF – a dream pop duo based between London, Gothenburg and Berlin.
Originally from Noosa, on the Sunshine Coast of Australia, Star and Toma met in their teens. Despite both her parents being musicians, Star only found her voice 3 years ago – the pair naturally joined forces and have written together ever since.
Channeling sweet sounds reminscent of Beach House, Mazzy Star and Lana Del Rey, Geowulf's debut offering 'Saltwater' is a sinuous and melodic pop single; a bright and uplifting introduction to a band we're going to be hearing much more from.