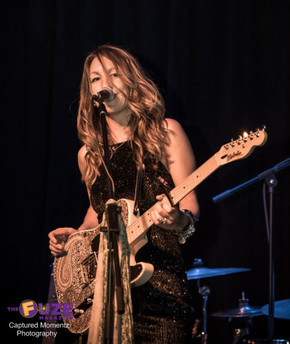 Hello there, it is hot here in New England and getting hotter. I love it though as long as the music keeps playing. So today we have an awesome musician from Syracuse, NY by the name Jess Novak. Jess relased her debut album in 2013 and has never looked back. Before we chat with Jess lets get some music news. First up, Pandora, the go-to music source for fans and artists, announced a partnership with Music Reports, the world's most advanced rights administration platform, to manage the mechanical licensing and royalty administration for its upcoming interactive streaming service. Transparency around licensing and compensation has been an ongoing challenge for the music industry, and by partnering with Music Reports, Pandora is helping to bring a new level of openness to publishers and music makers. In other news, WEA Corp. announced the combination of all its direct-to-fan and merchandise capabilities into one, newly formed division called 'Warner Music Artist Services'. The group will be led by Matt Young, who has been promoted to the new position of EVP, Warner Music Artist Services. Young, who joined the company in 2008, will report to Matt Signore, President, WEA. WEA is WMG's global distribution, marketing, sales and research arm. I am so excited to have Jess Novak on today as her single "Rat a Tat (Remix)" does not leave my head. I had to have her on to talk about summer & music in Syracuse, "Rat a Tat (Remix)", if Trump wins, and so much more!
Stoli: Where are we talking from today and are you happy that it is Friday?
Right now I'm at home in Syracuse, NY and yes, I'm happy it's Friday, but for the complete opposite reason most people are excited about it. I'm playing five times in the next two days (six in the next three, weather-dependent), so I'm happy to work, which is a funny thing.
Stoli: What is summer like for you in Syracuse, NY and how do you keep cool?
Summer is insane. Syracuse is such a snowy, cold city, so when the warm weather finally arrives, it's just mayhem. There are festivals outside all the time, shows all get put outside, etc. While we spend a lot of the fall and winter on the road (especially playing in Key West), summer is great because we can stay local and really enjoy it here. We also play literally almost every single day from June through August – sometimes twice a day. But it's so much fun to do that at home.
Stoli: Growing up when did you know that you had a passion for music and did your family support you?
Always, though it took me a while to find my place in it. I come from a historically musical family and my mom's name is Melodie. But, she didn't play or sing. I didn't grow up in a family band kind of setting, but I did start classical violin at the age of seven and my brother, who is ten years older than me, picked up bass around the same time I started violin. I was incredibly influenced by that and really identified with THAT kind of music more than classical. When I was in third grade my favorite songs were "Wrapping Paper" by Cream and "Jungle Boogie" by Kool and the Gang. I loved funk, a great bass line and songs that moved me – physically and emotionally. But – as a classical violinist – there wasn't much room for rock. It wasn't until I was in my 20s that I figured out how to translate my skills on violin to the music I really loved. I also didn't know I could sing until then, so when I finally found my groove in the music – it all happened really fast and it really exploded. I went from never doing this to releasing four albums in four years of all original material (and have a fifth coming!).
And yes, to answer that other part – my family has been incredibly supportive. My mom painted my telecaster and my brother has played bass on my past two albums. They all come to shows whenever they can and my parents even followed me on tour for a while through Florida. It is the greatest thing in the world to share my passion with my family.
Stoli: Did you have any special music education or training or was it all instinct?
I started classical violin when I was seven and played in orchestra for almost 10 year. I even traveled to Europe on tour with that group. I started drums in third grade and played some upright bass. I moved to French Horn in 8th grade because I was told I had a good ear (especially from violin). In high school I played French Horn and trumpet and was drum major of the marching band for two years. My education in music was deep. I played everything from classical to funk to jazz, but I still didn't really find my passion until I picked up my guitar when I was 23 or 24. I had it since I was 16, but it took years for me to REALLY pick it up. Once I did though, the songs started flowing and I started playing with a few bands. Then one of my bandmates (Mark Nanni, who is now the keys player in The Jess Novak Band) gave me a few theory lessons to show me how to solo on violin and I just took off. It was so freeing to take that step from reading the music to feeling it. Once I had that foundation of knowledge, plus all those years on other instruments, I surrounded myself with the best musicians I could find and just fed off of them. I tried to imitate guitar licks on my violin and developed a really special sound of my own. And singing – I took a few lessons and learned how to take care of my voice and celebrate its strengths rather than try to be someone else. The best voices in music are like that – completely true to themselves and not always the best technically. It's about tapping into your soul. I am most satisfied now because I find myself tapping into that both with my voice and instrumentally. That's an amazing feeling.
Stoli: You have a band but you are also a solo artist. What are the advantages to both and what do you prefer?
I'm a journalist, too and just had an interview with Andy Friedman. He's an artist – both visually and musically and he put it best – you pick up the tool that will help you communicate what you want to say. For me – sometimes that means a full band and sometimes it means just me at a piano. I think people underestimate or fail to recognize the power of simplicity sometimes. It can be SO moving. It's also made me a much better musician because I have to rely on myself to play, sing and write. Sometimes I'm a side-lady and sometimes I'm the center of attention. Sometimes I have a band to hide behind if I mess up and sometimes I'm on my own and just have to keep going. You grow a lot when you're exposed. I love it. It challenges me. I don't prefer one, necessarily, but I love them both for different reasons.
Stoli: How did you decide to name the band after you and does that have a special meaning?
It's funny – I don't like the band being named after me. At first we were The Golden Novak Band because the guitar player was Brian Golden and my name is Novak. We really just couldn't think of something better or more fitting. When he moved away, I didn't want to completely change the name because we had so many shows booked and because the rest of the band was the same. So, we went to the next closest thing – The Jess Novak Band. The benefit of this is it's simple. People can remember a person's name and the formation behind me can change, which it does. We play as a duo, trio, four and five-piece, but I'm always there, so it keeps that name recognition solid. It's growing on me now, but I'm always trying to think of a really cool band name. They're so hard to come up with!
The Jess Novak Band – "Rat a Tat (Remix)"
Stoli: I love your song, "Rat a Tat (Remix)." What is that song about to you and when did you write/record it?
"Rat a Tat" is an amazing thing. I wrote the chorus in the car coming home from a kiss that inspired the whole idea of it in 2013. My heart was fluttering – rat a tatting. I had also been listening to a lot of Grace Potter and thought her song "Paris (Oh La La)" was brilliant because the hook is just "oh, la la la la la la la". It's so simple, but so catchy. So "Rat a Tat" sprung from that, but wasn't finished for another few months. Once it finally was, we recorded the bulk of it in a day in June 2014, but later I had the idea to remix it. At that time I was listening to Amy Winehouse's song with Ghostface Killah and thought "Rat a Tat" needed a rap. It had such a groove to it and needed a little more attitude. We went back into the studio with it last year and it fell perfectly into place. I've always admired Langston Masingale's (who raps on it) style and he absolutely made it.
Stoli: I love the video as well. What was the concept for the video is regards to the song itself?
That was always an idea in my head. The whole concept of "rat a tatting" is kissing and how it makes your heart flutter. So, I wanted REAL couples in the video who were in love and could show and write (on the signs) what makes each of them flutter. It was so sweet to watch them all write those things and I love that it's captured in the video. It's all totally real, which is the most beautiful thing. And – speaking of my family – my parents are in the video! They were just weeks away from celebrating their 40th wedding anniversary, which made it all even more amazing.
Stoli: What are some cool Syracuse music venues you play and like to frequent?
Syracuse has so many great musicians, it's astounding, so I love checking my musician friends out when and wherever I can. Locally, there are some great spots, but I've actually come to love the surrounding areas quite a bit. Oak n' Vine is such a great listening room, Theater Mack always has the best audience and Oswego is just a fun freaking town. Closer to home, Dinosaur Bar-B-Que is always fun and Shifty's is notoriously the music spot, but there are so many great places in and around Syracuse.
Stoli: If Trump becomes president are we doomed?
Yes, and I'm moving. He just disgusts me. To me – it's horrifying that someone so hateful and with absolutely no intelligent stance on anything of substance has made it this far.
Stoli: What is coming up for Jess Novak and where you @ Online?
We are wrapping up our new album now and expect it to come out in August. We're also about to film a new music video and I'm starting another all-original album in the fall. We also just got booked to play in Key West at Margaritaville for a week during FANTASY FEST in October. If you don't know what that is – just look it up. And we'll see you there ;)
You can find everything at http://www.jessrocknovak.com. We're on facebook at facebook.com/jessnovakband or facebook/com/jessrocknovak. twitter and instagram @jessrock87.