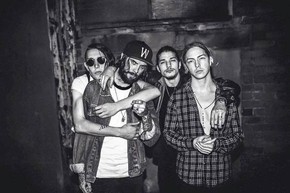 Come take shade under the leaves of the Hunna Tree. With roots that bury themselves deep in the urgency of rock and a sound that's dappled with a carefree indie aesthetic, The Hunna want you to take a leaf out of their book, let go of your inhibitions and be young, be free, and be whoever the hell you want to be.
Garnering praise from buzzy US tastemakers like Consequence of Sound, NYLON, Billboard and more, the boys from The Hunna have been making a name for themselves in the States. Capturing audience's hearts with their enigmatic live show on a tour that saw them play a sold out show in New York City and taking them to major regions like Chicago, Los Angeles and more, the band are excited today to announce their debut album, 100, due for release August 26, 2016 via 300 Entertainment.
Making their debut in October of 2015 with their first single, "Bonfire," the UK four-piece have already carved out handful of songs with a sonic bombast that has garnered millions of Spotify streams, 5+ million video views and praise by the likes of Zane Lowe, Annie Mac and Huw Stephens. The band sold out 3 nights at London's Boston Music Rooms and by the time their second single, 'We Could Be' was unleashed, The Hunna's music was making waves in the iTunes and Spotify charts on a global scale.