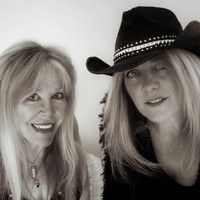 Jonnie & Joy consists of Jonnie Rockwell (keyboards and backing vocals) and Joy Tolbert (lead vocals), two old-timers that were once part of 80s Bangles-esque all-girl band Starchild. After spending nearly two decades apart, Rockwell (who attended med school and became a family medicine doctor before returning to music) and Tolbert (who recorded and toured with Restless Soul before marrying and starting a family) reunited to produce their EP Running Home (2016), which consists of 6 tracks of energetic, uplifting pop-rock. The EP was produced by veteran producer Gary Katz, how has worked with the likes of Steely Dan, Diana Ross and Joe Crocker.
FACEBOOK: https://www.facebook.com/Jonnie-Joy-1504338859869464/
As Rockwell noted, the EP is mainly a rock-scored emotional roller coaster that depends on the duo's songwriting skills to take the listener through life's highs and lows:
"Joy was always so brilliant and beautiful, such a strong and insightful storyteller, sharing through songs her life experiences and the ups and downs of finding love and losing love. I consider these storyteller songs that perfectly balance lyrics and melody. We were always such a strong songwriting and performing team and working with Joy again is a delight and we are looking forward to an amazing ride."
"Lost Soul" is an old school rock self-empowerment anthem, with Tolbert belting out the refrain 'I'm an old soul, living in the city/ I'm an old soul, taking it day by day' against soaring chords and action-packed guitar riffs. The uplifting song insists on emphasizing self-reliance instead of wallowing in forlorn, dejected loneliness, a dynamic that is also fleshed out in "Never Gonna Cry's" treatment of heartache and betrayal: 'I can't spend my life being treated this way/ I'm never gonna cry for your love again/ But I keep on trying yeah/ I'm never gonna feel your arms again'.
"Running Home" begins quietly, but quickly escalates as Tolbert's husky vocals draw out the refrain. "Can You Hear Me" largely repeats Jonnie & Joy's interests in exploring human vulnerability and emotions ('I want you to know this/ You're still on my mind/ Baby can you hear me/ Or am I wasting my time?'), but this time with a more substantial personal narrative (a verse reveals that Tolbert's lyrical persona compromised the relationship by cheating).
"Night Stalker" is vaguely reminiscent of Laura Branigan; Tolbert alternates between soft, dreamy and melodic verses and an angst-ridden chorus (which is accompanied by catchy chants) to present an intriguing, opaque journey through a maze of self-denial: 'My eyes cannot see (Night stalker! Night stalker!)/ What they are telling me (Night stalker! Night stalker!)/ But I cannot see (Night stalker! Night stalker!)/ The enemy is me'.
The final track, "Hold Tight", presents life as a literal roller coaster, with Tolbert whizzing through melodic verses to dwell on the soaring, punchy message of resilience in the face of adversity: 'Hold tight!/ We're gonna make it through the night'. Jonnie & Joy may not blaze a new trail through traditional rock's sonic or thematic territory, but Running Home is nevertheless a thrilling, reassuring ride.
MUSICOZ: http://muzoic.org/release/album/jonnie-joy-running-home-ep
Review by Gus Xie