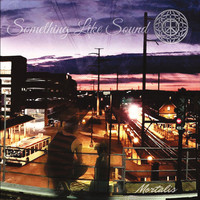 Something Like Sound weaves together elements of rap, grunge, and folk into a flawless whole on "Mortails". Impossible to pigeonhole Something Like Sound seemingly does it all and does it well. Over the course of "Mortails" Something Like Sound show off their impressive chops from the commanding rhythms to the soulful vocals. Tying all of it together is an articulate lyricism that creates carefully crafted little snapshots of life.
http://rippletunes.com/music/something-like-sound/mortalis/1117179391/t0
Reminiscent of early 90s grunge is the longing spirit of "A Far Cry From Philadelphia". Nicely melding elements of folk into the mix "A Far Cry From Philadelphia" is one of the album highlights. An all encompassing sound dominates the brilliant spirit of "Shooting Star Syndrome". Full of passion is the deeply romantic "She Moves Like Fire". Starting off with a hushed spirit the song grows in power and volume as the rest of the band comes into focus, with a jaunty rhythm leading the way. Tense to its very core is the folk-punk of "Green Jeans and War Weeks". "The Words I Should Have Said" opts for a stripped down, intimate approach with a defiant attitude defining it with carefully chosen lyrics. Yet another highlight is the kaleidoscopic work of "Taylor's Song". Effortlessly blending together rap, punk, and pop "Taylor's Song" is simply astounding. Additionally "Battle Hymn" opts for a similar, though more triumphant sound as it sweeps through with great finesse.
"Mortails" is an infinitely catchy timeless album showing off Something Like Sound's incredible versatility.
http://www.somethinglikesound.com
https://www.facebook.com/SomethingLikeSoundBand
By Beach Sloth