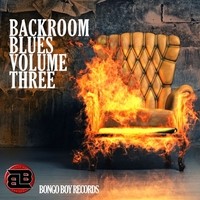 With a nice mixture of the blues and classic rock is the stylish sound of Topham McCarty's "All Your Love". Romantic to its very core Topham McCarty plays with tempo to great effect. Incredible guitar riffs abound throughout the piece showing off their impressive chops.
Plainfield Slim utilizes a playful approach with the giddy work of "The Ringing Phone". A slight edge courtesy of the song's lo-fi origins helps give the piece its wild free spirit. Vocals are the perfect mixture of flirtatious with a little growl.
Blisteringly hot is Mia Movaris with the Trevor Sewell Band's "Work Me Baby". A big brash band backs Mia Movaris's strong voice as she belts out the lyrics with the right amount of passionate. Swinging behind her is a full, colorful band replete with glistening organ and a loose carefree rhythm.
Offering up a delightful kind of chaos is the distortion led work of Big Bone Daddy's "Can You Tell Me". As the lyrics are sung with a sense of confusion this is matched wonderfully with a harmonica played with a sense of demented glee. Throughout it all, the melody guides the way forward.
Stripping things down to the essentials is the intimate easy sound of C.C. Bronson's "Must Be Somethin' Going On". An elegant, jazzy feel dominates throughout the song. C.C. Bronson's voices acts as the heart and center of the piece with all else revolving around her.
Like a long-lost classic comes the defiant spirit of Alvin Madison feat. Plainfield Slim's "Still The Same Young Man". Nimble guitar work gives the song an almost funky sensibility. This, coupled with the fast-paced jaunty rhythm, result in a song that flies forward.
"Stuck To My Show" displays Lisa Coppola's careful knack for storytelling. Throughout it all Lisa Coppola sings with a great deal of fury, rueing the useless people who keep on coming into her life. As the song progresses it becomes ever more beautiful as the lyrics seem resigned to the fate of dealing with such terrible hard to lose people.
Billy Hamilton & The Lowriders create a lush luxurious sound with "Pay Some Money". A laid back rhythm anchors the song as the lyrics explore a call and response effect. Smart, stylish, and elegant, the group creates the sort of sound to get lost in.
Ending things on a high note is the swampy sound of "Moon Madness" by Blind Lemon Pledge. Smoky vocals define the piece as the poetic lyrics add a great deal of mystery to the proceedings. The spacious amorphous sound does wonders for the overall dreamy sense of the song.
Release date: Tuesday June 7 2016 in ASIA and WORLDWIDE June 28 2016
www.bongoboyrecords.com/backroombluesvol3/
By Beach Sloth