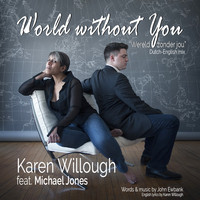 Sensitive and stylish, Karen Willough's "World Without You" duet with Michael Jones is a brilliant beautiful song. Romantic to its very core the song unfurls ever so slowly. The soft, gentle arrangement works wonders with her clear, careful vocals. Lyrically the song focuses on relationships, on what they mean, and how their dissolution can result in such a profound sense of sadness. Karen Willough proves highly adept at creating articulate tender snapshots of what goes through a person's mind as they reminisce about a long lost relationship. Over the course of the song the smallest details give the song such strength, from the slight strings to the hints of horns that come shining through time to time.
Things open up quite calmly with a soothing atmosphere. Karen Willough sings of how she is able to stay strong in the face of friends, trying to overcome the sadness of the end of a relationship. As the song grows in strength and power, Karen Willough sings of what being alone has done, of how the person has left. So much time has passed that there is no way of going back. Piano work is rather soft, and punctuates the sweet sadness that permeates the song. Towards the finale of the song everything starts to come into bloom, with layers upon layers of sound lightly interacting to reach a heightened peak of an emotional outpouring of feelings.
iTunes: https://itunes.apple.com/us/album/world-without-you-feat.-michael/id1108451976
Amazon: https://smile.amazon.com/gp/product/B01EU9UNZ8
Recalling the best of 70s singer-songwriters, Karen Willough's "World Without You" creates a haunting piece of work, one of introspection and reflection.
https://www.reverbnation.com/karenwillough
https://www.facebook.com/Bending-Willough-Music-1666189010327817/
http://www.bendingwillough.com/
Posted by Beach Sloth