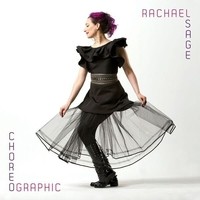 Rachael Sage returns to the music scene with her new album "Choreographic". Sage is a talented vocalist and a well-seasoned musician with a long list of credits to her name. Her work has been on MTV, HBO, the movie "Fame", and on the TV show "Dance Moms" , just to name a few. Sage is frequently touring on the road, being known in the music industry as the hardest working independent artist around. She's graced the stage with Sarah McLachlan, A Great Big World, and Judy Collins among many others. Her work is a breath of fresh air and shows a new side to contemporary pop music. With this album, she gives honor to another one of her passions: dance. As a young girl, Sage was a part of the School of American Ballet, which was where she drew her inspiration for this project. This passion is apparent in this album since every song could definitely be used in a lyrical, or modern dance number.
The first track off of the album "Heaven (Is a Grocery Clerk)", shows Rachael Sage's view on spiritual matters. Her voice, reminiscent of Regina Spektor, glides through the song, making it a pleasant experience. The instrumentation of this song is very intricate, with an amazing strings and piano section in the beginning. In the first verse, she says "Give me something to dream about/Something to laugh about/ Oh give me". Her simplistic view on life is shown through her lyrics; maybe life isn't as difficult as everyone makes it be.
The lead single off of "Choreographic" is "Try Try Try", a song about a hopeful love. This song was fun because of its light-hearted feel, just in time for summer. Sage's voice brings a twist to traditional pop music, with some country influences in this track. A New York native, Sage sings about her love of home, and how the home is where the heart is. In "Home", she paints a beautiful story about various parts of New York, nature, and the beauty in all things, finally stating that "Home is where I am now". This track was very heartfelt, especially because she's touring frequently, it's always nice to see an artist connect with their roots through their music.
But not all of this album is a bed of roses, in "Clear Today", Sage sings about leaving a bad lover. It was nice to hear a contrast to the overall cheerful theme the album has had up until this point. Sage also bends genres with hints of blues, in "I've been Waiting". An inspirational track, that will motivate any listener is "I don't believe it'. This is a song about self-esteem, and not allowing anyone to tear you down. In the lyrics she sings "Every time that you tell me I'm not good enough I don't believe it", this is a great message that many people need to hear.
"Choreographic" is a great album, showcasing Rachael Sage's vocal ability in an amazing light. Her musicianship is also shown with the amazing instrumental support. I'd recommend this album to anyone who is a fan of Regina Spektor, Fiona Apple, or any type of soft pop music. Music lovers and dancers everywhere will be appreciative of her work. I look forward to hearing what she has in the future.
SOUDCLOUD: https://soundcloud.com/mpress_players/sets/rachael-sage-player
Review by Abby Wright