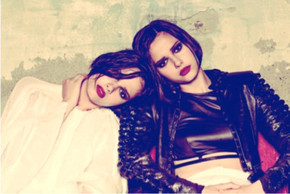 London-based sister act, Bloom Twins, have unveiled their new single 'Amnesia,' to be taken from their forthcoming debut LP due out later this year. The track, a perfect example of the girls' dark pop, that serves up haunting dual vocals set against an electro backbone.
The track was produced by one of London's best-kept secrets, UK songwriter, musician and producer Anthony Marshall who has worked with some of the biggest and brightest stars who have shaped today's musical landscape. His impressive resume includes a diversity of superstars – Britney Spears, Jennifer Lopez, Simply Red, Pet Shop Boys, K-Ci and JoJo, Craig David, to name a few.
The sound that has emerged is an intoxicating mix, shaped by their unusual background and perspective, crossing over several genres of music. They fuse stylish electronica with haunting melodies, delivered in their distinctive vocal style, and embellished with the sound of the flute, harmonica and piano, creating truly modern results.