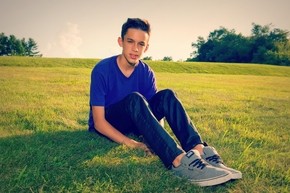 Hello there to all my music friends far & wide, it is so good to be here today. Now I can truly say that summer is here and that is a good thing. Before we speak with an impressive 16 Year old pop singer/songwriter by the name of Tommy Shafer lets do some music news. ICE, the new music licensing and rights royalty processing service representing more than 250,000 songwriters, publishers and composers, announces its first licence agreement with Google Play Music. This agreement with Google Play Music is evidence of the significant progress made by ICE which follows five years investment and development by its three European collective management organisation (CMO) shareholders. I applaud Google for this move. In other news, Warner Music UK announces the launch of The Firepit, a creative content division, innovation centre and state of the art recording studio supporting Warner Music's artists, labels and partners. In addition to producing short and long form visual content, supporting brand partnerships and recording music, The Firepit will incubate emerging technologies for Warner Music's family of labels, helping them to create fresh, original and inventive campaigns as well as developing new commercial opportunities for their content. Now lets get to my guest this week, Tommy shafer. Tommy is from New Jersey and at the age of 16 he is more ambitious and talented than most. I caught wind of him from his single "The World Is Mine." Join us this week as we chat with Tommy about warm summer weather, good parenting, social media rankings, and so much more!
Stoli: Where are we talking from today and are you getting excited for summer?
I'm talking from Bergen County, New Jersey about 30 minutes from New York City, and I'm super excited for the summer. I have a lot of awesome things planned, and I hope to gig out as much as possible! I'm working on writing new music, and releasing new music as well.
Stoli: Does the warm weather bring out creativity in you to create music or no effect?
Oh yes, for sure. The time when I write most of my best music is in the spring/summer seasons. I love grabbing my guitar and heading to my local park to write music in the warm sun.
Stoli: You are so young and so driven. How much of that do you attribute to your family and how you were raised?
Thank you very much. My parents have always taught me to be respectful to everybody that I meet, and to always work my hardest for what I aspire to achieve. I hold a lot of respect towards my parents for what they have taught me and continue to teach me every day.
Stoli: Your site speaks how Justin Bieber has inspired you. What have you learned from Bieber and would you like to have a career like his one day?
Yes that is true. Justin has taught me to believe in myself and to keep going with my musical endeavors, and that anything is possible, especially in the music industry, since he was a small town kid who put himself out there on YouTube, and grew it into a pop phenomenon. I would love to have a career like his one day!
Stoli: Do you ever get concerned that the industry offers many temptations like sex, drugs, and partying 24/7 and how will you handle that?
I don't get too concerned because I know how much I love creating music and delivering it to my fans. I wouldn't want to risk my career and life for those bad temptations. If I ever run into a situation like that, I would think of how hard I have worked to build my fanbase and how much I love making music.
Stoli: Do you attend school like other 16 year olds and do you plan to attend college?
I'm about to finish up my junior year of high school. I plan to take a year off before I go to college to try and sign a record deal, but if I don't sign a deal before the year is up, then I would attend college and study music.
Stoli: I love your song, "The World Is Mine." What are you telling the fans and folks who listen to that song about you?
Thank you! My message that I am trying to portray in, "The World Is Mine" is just to live life to the fullest and have no regrets from your past. The song is basically a Friday night getaway from the hard week :)
Stoli: I just Liked you on FB, what social media platform do you find to be best when reaching current & new fans?
I find that Facebook has a very good advertising platform to reach current and new listeners. Instagram has the best engagement and Twitter is great for connecting with my fans. I find that right now, Facebook is my favorite platform to reach my fans.
Stoli: Being you are so young, what do you hope the next president can do to help the people of the USA?
I hope that the next president can improve life for every American and that he or she can keep our country safe.
Stoli: How much time per week do you give to your music and do you have to sacrifice social gatherings with friends?
I would say I put in about 5-6 hours a day practicing my vocals, guitar, piano, connecting with my fans, and creating content. I do have to sacrifice many social gatherings in order to work on my music and support my career, but music is my pure passion so it doesn't bother me.
Stoli: What is coming up for Tommy Shafer and where you @ online?
I will be releasing a new music video soon for one of my acoustic songs called "The List Goes On" and I will be performing out as much as possible. You can connect with me on my Official Website, YouTube, Facebook, Twitter, or Instagram below:
http://www.tommyshafer.com/
https://www.facebook.com/shafer39