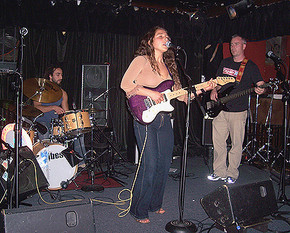 It is refreshing when a young girl can grow to a woman and realize her dream has come true. Renee Asteria is that young girl who took her first piano lessons at 5 years old and began to immerse herself into her love of music. Her mother literally planted the musical seed when she used to serenade her with South American lullabies (example "Duerme duerme negrita, que tu mama esta en el campo"). Renee's parents meet because of their love of music. It is no surprise that she would end up carrying on that love to another level.
She began writing songs at age 12 and to this day sees them as a form of therapy a way of to express and share her experiences. Around the same time she took up vocal lessons but turned to learning to the bass and rhythm guitar in order to write songs.
"I draw inspiration from the world around me as well as my internal world, it's really very vast! I am a tragic romantic and an idealist, these energies fuel songwriting".
Renee is a versatile artist performing in English, Spanish, French and Portuguese. That alone is impressive. She has performed under her two artists' names, Renee Asteria and Razteria. Since she is trilingual it has offered her opportunities to take the stage in many countries like Argentina, Bolivia, Canada, USA, France and Switzerland. Her music is hard to categorize as she delves into many styles such as reggae, rock, Latin flavors and more recently hip hop, soul and funk.
Her music is drawn from many influences as she developed as a singer / songwriter. Renee's first exposure to music was what her parents played in the home from South American music, classic compositions from Mozart and the Beatles. As she grew older alternative rock bands like Alice in Chains and Nirvana pulled at her. But then her interest shifted to the likes of Bob Marley and Desmond Dekker. This is where she discovered her love for the elements of bass and beat together with powerful messages of love and social justice carried in many of these songs.
"Aventurera", released March 18th, 2016, is Renee Asteria's 5th work of art with a fusion of many genres and collaborations with many talented independent artists and musicians based in the San Francisco Bay area. "Aventurera" was recorded and produced at her own, Truffula Oak Studio. On this specific album she collaborated with rapper-educator Rahman Jamaal and afro-Peruvian group Sang Matiz. The title of the album is an extension of Renee in a sense. It means "the adventurer" which Renee seems to have been through her musical career.
Rahman Jamaal is a prolific artist who has an impressive track record of his own. He debuted in the 2003 Sundance Film Festival in the move"The Beat". Rahman Jamaal devotes his talents to two acts, Projekt S.E.E.R. and the tribute band Blood Sugar Sex Machine. In addition, he spends time working with other musicians and especially the youth in the Bay Area as the founder of the Rap Force Academy (http://www.rapforceacademy.com/) and executive director of Hip Hop Congress..
The afro- Peruvian group Sang Matiz is not a stranger to collaborations or performances. The artists Sang Matiz have worked with are Jackeline Rago (Master Percussionist), Miguelito Martinez (Flutist/Composer), Silvestre Martinez (Composer/Percussionist), and Grammy Award-winner Braulio Barrera (Pacific Mambo Orchestra), They have been bringing their music to the stage for over six years. Similar to Renee's style they fuse many different genres to develop a explosive recipe. Their talent was recently recognized when they had the honor of opening for the legendary Cuban band Buena Vista Social Club Orchestra.
Renee constantly surprises the masses with a different twist with every release. Her unique style and vocal presence is paramount to her success. Currently, she is working on producing yet another album which will continue her path of crossing musical and cultural boundaries. This summer she is scouting in Europe and South America for artists to produce for this next international crossover album.
To listen to Aventurera visit http://soundcloud.com/razteria/seta/aventurera-album, and purchase on http://asteriarecords.bandcamp.com.
by Nick Christophers