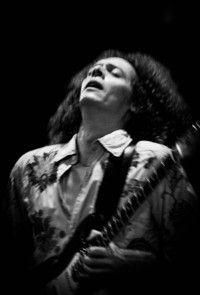 Grant Lyle's "Nu" taps into the sweetest kind of style, of a lovely languid form of classic rock. Throughout the album Grant Lyle's voice resonates clearly. By far the heart of the album is Grant Lyle's soulful approach to the guitar. With an incredible range from the atmospheric to the straight-up pure blues influenced rock n' roll Grant Lyle seemingly does it and all does it well. Arrangements are impeccable showing off Grant Lyle's ear for form and melody.
Stream new music via Soundcloud: https://soundcloud.com/grant-lyle
"So Glad You're Here" starts things off on a mellow note. Without saying a word the guitar sings tenderly. A sly sort of funk permeates the playful sound of "Cannonball" with the loose drums serving the song well. Bombastic and deserving great amounts of volume is the inviting work of "Love Rain Down". Easily the highlight of the album is the infectious groove of "It Ain't Right" where Grant Lyle's impassioned vocals do it great justice. Over the course of the song everything builds up into such a beautiful finale, showcasing Grant Lyle's undeniable chops. Glistening keyboards punctuate the luxurious sound of "Take It Back". Country-tinged in tone is the introspective sound of "Wild Eyes". Hopeful in nature is the tender message of "Give It Time". Ending things on a smooth sophisticated note is the jazz tinged gentle work of "Evening Song".
Effortlessly blending together blues, rock, and soul into a satisfying whole Grant Lyle's "Nu" feels like a long lost classic.
Posted by Beach Sloth