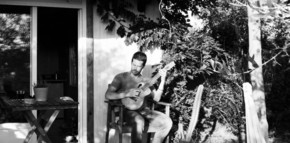 Currently most music coming out is depended on technological production than organic. But there are those who try to release music in its rawest form. One such artist is Washington DC native, singer/songwriter Dan Lipton. He has become somewhat of a journeyman especially with his debut solo album "Breathing In". Dan pulls his lyrics from experiences based on his travels from NYC, Atlanta and Charlottesville.
https://www.youtube.com/channel/UCpmvlmGY7FBw4H8kZEcJqfA
Dan has played with other bands in his travels and this is not the first album he has worked on. He for a time played with the band Dreaming Isabelle while in Virginia, a folk-pop trio where they released three albums. The most recent being in 2013, called "Traveling On" with Chris Doermann and Jon Thompson.
His current album seems to ooze with a Bob Dylan / Springsteen sound. Tracks like "Dark Water" seems to be torn from a page off Springsteen's "Nebraska" album. And "Shade In The Shadow" delves into a darkness that only Dylan can appreciate. His album has already received praises from The Vinyl District and Huffington Post.
The album was produced and tracked in the most unusual location, in empty cabins from Maine to Virginia. Dan digs into the nature of things and brings it home with reflective lyrics that harp on every nuance of life itself. The album was released in February 2016 and is still breathing new life into the music world.
by Nick Christophers