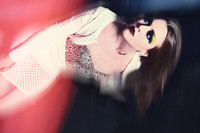 With smooth silky vocals, Dingwall's "Mad Ones EP" is a passionate polished piece of pop. Production values are astounding as Dingwall opts for nimble dub-influenced structures akin to that of Andy Stott. Brittle textures skitter across as the bass hits in just the right way. Melodies glisten throughout the collection as they further emphasize the sense of tension that permeates the entirety of the pieces. Woven together the songs represent a truly epic sea of sounds as the many layered approach results in ornate mysterious textures.
PR: http://top40-charts.com/news.php?nid=117709
"Shoulda Run" opens the collection off with a bit of a tension. As the lyrics state there is a choice that ultimately needs to be made, as to whether or not to stay. The elements of sound swirl about creating absolutely massive slabs of sound. On "Taking Over" Dingwall brings in a little bit of country elements into the overall scope of the sound lending the piece a naturalistic, airy feel. Driving rhythms define the impressive "Fall Back". Her voice serves to center the piece as the song focuses on the idea of being the best, of possessing great self-confidence and assurance. Softer in nature is the languid pacing of "Mad Ones" whose delicate sounds work wonders. Industrial, dub-influenced beats mark the highlight of the album and the closer, "Hollow". Stylish and sophisticated the song comes into bloom ever so gradually, resulting in a particularly satisfying finale.
Dingwall's "Mad Ones EP" points to a future sound of pop, one careful concise and perfect.
https://www.facebook.com/dingwallxx
Posted by Beach Sloth