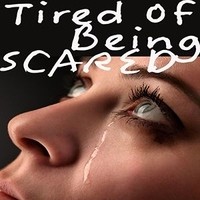 Sarantos creates a lush piece of pop with "Tired of Being Scared". With a wide variety of textures being brought to the fray Sarantos explores a soulful sound. The chorus hits all the right notes offering a luxurious approach. Infinitely catchy the song grows ever larger, with a particularly satisfying buildup. Rhythms are driving as Sarantos effortlessly weaves together elements of the grandiose, both of glam rock, classic rock, and a little bit of choral music. Over the course of the song the piece teems with passion.
Opening up in the middle of things the song simply starts up with dramatic piano work. Throughout the song Sarantos seems to tap into James Blake's approach, letting the bass serve as the anchor of the track. Rather subtle in nature the bass is quite delightful in its elasticity. By giving such a large amount of leeway Sarantos lets this serve as the driving force of the entire piece. Melody pops up among the edges, bubbly in tone and in ultimate delivery. While the instruments swirl into each other transforming into a glorious sea of sound Sarantos lets the lyrics serve as a form of defiance, against the fear of fear. As the song progresses Sarantos focuses on what can change a person, what limits them. Fear certainly is one of those elements and Sarantos shows a path towards greater inner strength with the power of his lyrics.
Inspirational to its very core "Tired of Being Scared" shows how Sarantos produces pop with purpose.
Posted by Beach Sloth