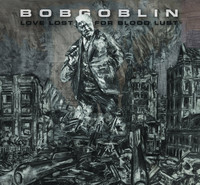 Bobgoblin began their journey back in 1992, when Hop Litzwire (vocalist/keybordist) met Rob Avsharian (drummer) at the University of North Texas, and they combined their efforts in the uphill struggle of carrying their ideas into masses. Later, in 1994, guitarist/bassist Tony Jannota joined them, and since then their main line-up has remained the same throughout the time. Well, that's a long history of 24 years now, and many things have happened upon the road: they were signed to a major-label, but had significant disagreements with the company on how the band's music was supposed to be done; so they rendered the contract null and void to make for freewheeling; they released few more albums, which were quite successful, had tours in support of them and, here they are, having launched Love Lost For Blood Lust (September 1, 2015), which we are going to scrutinize now.
The sound of the band is inspired by a range of musical genres, such as punk, post-punk, power pop, glam-rock, new-wave, prog rock and orchestral music. All the influences helped the rockers form their individual style. I wouldn't say that it is extremely aggressive, but it is strongly opinionated. Most of the songs deal with social issues, mass brainwashing and obscurity the world has sunk in. You won't find personal, emotional tracks about broken hearts, unrequited love and misunderstanding here. Though, of course, all the questions taken up personally concern the band members to a great degree, and it runs like a golden thread through everything they touch: from their site, on out to what they speak about in their songs. They communicate their thoughts clearly, not mincing their words not to hurt feelings of others, – they've got something more important to do.
The musicians have had time to hone their skills and improve their craftsmanship to deliver products of the highest quality, there is no doubt about that, as well as about the degree to which they are dedicated to what they do.
The tunes from Love Lost For Blood Lust are energetic, powerful in their message, perfectly-produced and dexterously arranged. The lyrics of the songs involve witty sarcasm and poetic sophistication at the same time. They awaken your imagination and make you think. You may agree or disagree with Bobgoblin's point of view, – it doesn't matter, as long as you try to find the answers.
Despite the black tone of the songs, the disposition of the album is optimistic. The musicians rather deride the whole situation, make fun of it, – depression is not their state of being. The song Waiting For The Sun can describe it all: "Under the clouds of an endless deception, We keep our heads up awaiting reception. Hoping this is when the light will shine, Your hand in mine, Waiting for the Sun". Well, optimism is indispensable, when it comes to crackdown on ignorance. These guys are combat veterans of this battle, they are still full of determination and confidence. Who knows, maybe you will side with Bobgoblin after having listened to their arguments.
Anastasia Shanueva