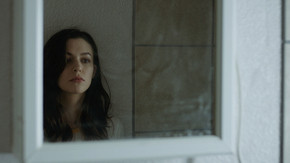 Meg Myers dominated Coachella this weekend with another incredible live performance. According to Pitchfork, "Meg Myers ruled the Gobi tent. The Nashville-born songstress won over the crowd with her smart, incisive alt-rock, showing why she has such an obsessive cult following."
Following a second Coachella performance next weekend (Sunday – 3:45pm – Gobi Tent), Meg will bring her provocative and dynamic stage presence to late night television for the first time ever, performing her newest single "Motel" on CONAN on Tuesday, April 26 (airs at 11pm ET/PT on TBS).
Last week, Meg debuted the video for "Motel" from her debut album SORRY.