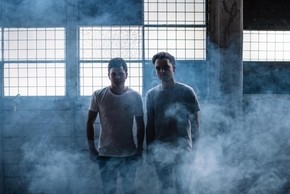 Australia's rising star producers Futuristic announce the release of their new weapon CA$E, dropping on heavyweight label Ministry of Sound/Downright Records on April 18th.
Futuristic are known for their brash, no holds barred, bass heavy sound and their newest release CA$E takes this to a whole new level. Collaborating with British producer BCKSLVSH, the track sees the listener taken on a 4 minute,bass heavy journey complete with both artist's signature wobbly, face-melting sound and trapped out Gangster inspired lyrics, making this track a must-have worldwide.
Futuristic: "CA$E is the result of many months of hard work between us and British young gun BCKSLVSH. We were both came together several months ago with the aim of write a cross genre defining, bass influenced hit and CA$E certainly lives up to that hype. Coming for a local scene synonymous with bass music, we were influenced by artist's such as ex Perth Local's Knife Party as well as international artists such as Jauz, Habstrakt & JOYRDE".
https://soundcloud.com/futuristicaus/case-futuristic-x-bckslxsh