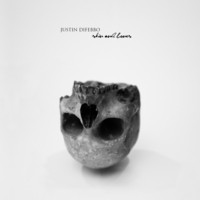 Philadelphia based Justin DiFebbo's debut album Turn Out the Light, Turn On the Stereo earned him effusive praise from various quarters and its follow-up, DiFebbo's new full length album Skin and Bones, will likely endear him to many more. Many might listen to this ten song collection and peg DiFebbo as a staunch retro revivalist or, even worse, a craven imitator. DiFebbo certainly wears his influences on his sleeve, but his fidelity to the past is more wrapped up in form instead of individual. He has found his vehicle not in labels, but in imagination. Skin and Bones demonstrates nothing is outside of his wheelhouse unless he deems it so.
The album's opener "Adrift" whips up a synthesis of early Pink Floyd, The Beatles, and lush, Brian Wilson-esque orchestration for maximum effect. DiFebbo's voice is quite evocative and matches the music's wafting, dream-like qualities. Cascading piano runs and sweet guitar phrases play counterpoint against each other in the song's second half and carry it to a higher level instrumentally. The Floyd influence is even stronger on "Air You Breathe" thanks to its steadily build, climatic slide guitar solo, and another study in creating space from DiFebbo's rhythm section. DiFebbo's lyrics are solid rather than spectacular on these opening songs, but they are far from ornamental. "Back and Forth" has a stronger rock edge than either of the aforementioned songs and a brief, almost rudimentary riff sharply contrasting the guitar's hitherto muted presence. DiFebbo's grittier vocal shows off another side of his range that earlier tracks never hinted about.
"Do What You Like", particularly when flute enters in the second part of the song, is vaguely reminiscent of 70's era Jethro Tull. The nasal whine in DiFebbo's voice retains enough hard corners and rough textures to give it needed gravitas which, consequently, puts his lyrics in an even better light. The title song has a quasi-waltz tempo and locked down timing. These are musicians who rarely place a single note wrong thanks to their good taste about knowing when not to play as opposed to having all the right notes. The breezy and rock steered "To My Love" is much smarter than your average love song and benefits further from one of DiFebbo's most energetic vocals. The scorching electric guitar solo near the song's end adds an exclamation point on the track. "Too Much" has a great groove from the outset and a relaxed DiFebbo vocal, but it opens the gates some during the song's second half and harnesses a great deal of guitar firepower to finish things off.
"Be My Star" ends things with appropriate note of longing set in intimate surroundings. The primary action here comes from DiFebbo and his guitar, but they just can't resist leaving things alone slathering his voice and guitar alike with wasted production effects. Skin and Bones rarely repeats itself and, as it mines the past, seems to always have one eye turned towards the future. He doesn't need to worry. If DiFebbo's first album deserved its deluge of positive press, then Skin and Bones will deserve all of that and a little more
8 out of 10 stars.
I-TUNES: https://itunes.apple.com/us/album/skin-and-bones/id1085493974
URL: http://www.justindifebbo.com/
Lydia Hillenburg