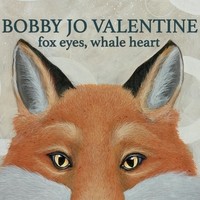 After selling several thousand albums and cultivating a supportive fan base, what's next? Bobby Jo Valentine's third album Fox Eyes, Whale Heart consolidates the reputation earned from the two superb albums preceding it and shoots even higher than before. The twelve song collection is chiefly distinguished by his writing skills. Valentine is a shrewd observer of human frailty in its varied forms and capable of filling his lines with genuine poetic flair. The album travels along low-fi lines – there's no booming hard rock or experimentation primed to roar out at you. Fox Eyes, Whale Heart intends to win listeners over with its heart and succeeds.
"Carry Me Away" opens the album memorably with its combination of yearning and joy. No matter what the lyrical content is, Valentine's vocal energy makes him sound continuously engaged with life and his dramatized experience. The song builds nicely from a restrained acoustic opening into a full-on band experience while still retaining its intimacy. Light vocal harmonies, strings, and a thin keyboard sheen add much to "Bones" and help temper the melancholy lurking just beneath its surface. "Haunted House" is one of the album's best songs, a superb lyric enormously benefitting from Valentine's nuanced delivery. It's quite apparent that he's with every single word and doesn't phone in even a syllable. He expends much of his songwriting energy tackling the rewards and tolls of interpersonal relationship and the title track, "Fox Eyes", is one of his best efforts in this vein. His lyrics are particularly successful because, like many great songs, Valentine traffics in the specific and vague alike. The specific grounds the song in a quantifiable reality while the vague allows listeners to form their own interpretations and conclusions.
The rhythm section of Con Brio distinguishes "Lion in the Summer" with their relentless pace setting. The energy and sweep they bring to the cut is a sonic tidal wave Valentine rides with confidence from first note to last. "Ever Since" is the album's starkest performance with only light banjo accompanying Valentine's voice and acoustic guitar. The tune suffers a little from lacking an effective bridge or much musical variation, but it works well enough to be a small, but affecting, number. "Nice Clothes" twirls in quasi-waltz time with a warm, relaxed air surrounding the music and vocals. Additional musical elements are introduced to the mix for excellent effect. "Ungrateful" is Fox Eyes, Whale Heart's first fully solo performance and the brief piece is one of the album's most emotionally compelling tunes. Valentine knows how to create tremendous intimacy with his voice alone – his well-phrased, half hushed delivery is ideal for the lyrical content. Strings return on the album's final song, "Something You Happen To", and Valentine brings Fox Eyes, Whale Heart to an appropriately sensitive ending.
Fox Eyes, Whale Heart is likely too long, but Valentine makes earnest efforts to incorporate enough variation into the album to justify its length. The effort is not entirely successful. However, there's no question of his blossoming skills as a songwriter, singer, and musician. The twelve songs on this new release never lack for commitment or feeling. Fox Eyes, Whale Heart is an ideal album for anyone interested in flesh and blood, slice of life depictions of life and the world we all inhabit.
4/5 Stars
I-TUNES: https://itunes.apple.com/us/artist/bobby-jo-valentine/id419687282
URL: http://www.bobbyjovalentine.com/
Jason Hillenburg