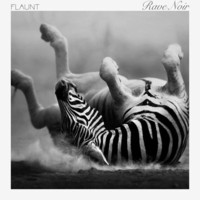 Mixing r&b with the Avalanche's sampledelic tendencies, FLAUNT's "This Is What Happens When You Let Me Down" is an explosion of magnificent color. Playful with their arrangements what serves as the song's true joy is its unexpected swerves from glossy jazz samples to nimble dance pop. By showing off such an impressive range within a single song FLAUNT proves that they are able to neatly weave their many inspirations effortlessly keeping the melody and rhythm together. Justin Jennings does fantastic work in keeping the organic element of the sound intact, as Joseph Vitterito works to keep things just slightly askew enough to keep the listener questioning about what comes next.
Their new single "This Is What Happens When You Let Me Down" has a music video has just been released last week.
A skipping strings sample introduces the track. Upon this simply ecstatic opener the beat comes in, hitting pretty hard. Tense synthesizer comes into the mix which leads to a series of nimble bubbling effects, as the piece full circle once more. By utilizing this circular movement to the track FLAUNT's many layered approach is able to become truly remarkable. Plenty of effects are brought into the mix, slowing down, speeding up, and most importantly, ensuring that the melodies are kept fully intact. Clever in nature the song grows ever more impressive with each reiteration, as the number of samples multiplies as the duo ensure that the song always remains mysterious.
Perfectly unpredictable, FLAUNT's "This Is What Happens When You Let Me Down" plays with melody, rhythm and lyricism with fantastic results.
Posted by Beach Sloth