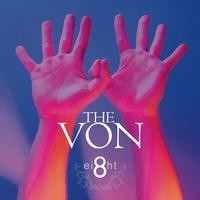 Formed in 2012, this South Florida act originally began artistic life as a partnership between vocalist/bassist Luis Bonilla and guitarist Marek Schneider. The band quickly became a trio and their debut album Ei8ht is an eight song collection packed with authoritative rock, strong lyrical messages, and self-empowerment in equal measure. The band has a surprisingly philosophical slant that never becomes too heavy handed or pretentious – instead, this is a band capable of communicating their ideas with perceptiveness, unflagging energy, and genuine go for broke rock and roll attitude.
The album kicks off with "Nothing to Fear", a minimalist stomper with a thumping rhythm section and a compositional approach to the guitar work. There's a steady, mounting tension pushing this song forward paying off with a wildly inventive instrumental break in the song's second half. One song alone proves that The Von have perfected their unique mix of muscular guitar rock with electronica, particularly keyboards. "The Machine" forgoes the electronica in favor of forceful riffing and much more identifiable melody than heard in the opener. The song is, likewise, a good illustration of The Von's lyrical talents. While the theme might be familiar to many, The Von has something distinctive to say and bring it off quite well. "Cry of War" is the album's first uptempo song and the rhythm section sets a command tone from the outset. The stuttering guitar work compliments it perfectly and gives the song sleek, streamlined vigor. Bonilla's vocal is one of the album's best.
The Von crib a little reflected glory from John Coltrane with next song's title, "Love Supreme", but this isn't jazz. The band continues pursuing an uptempo attack and the climbing guitar lines give the track an appealing nervous feel. "Atomic Sun" is an impressively creative love song with an epic build and expansive textures. Marek Schneider's guitar stands out for its versatility – this is a player capable of unleashing torrential lead work and shifting gears into a more cumulative approach. Moreover, he's quite tasteful and resists any temptation to overindulge. Keyboards play a prominent role on this track adding a lot of color. "Let It Out" opens as an overdriven, guitar-powered bruiser before the plodding tempo pulls back the instrumental firepower and segues into spacious verses. This is another of Bonilla's finest vocal moments and he delivers the lyrics with magnificent phrasing, peaking with the right words, caressing others. Ei8ht's secret musical weapon is often its rich vocal harmonies – their addition only makes the material more accessible. Acoustic guitar emerges during the song's final half to compelling effect.
"Don't Forget About Us" opens with precise, rolling drum patterns that persist through much of the song. It's an unusual opening insofar as the band's quick transition into unique power pop will surprise many, but it immediately works. The unique merging of guitar rock, keyboards, and pop sweetness mentioned in the opening of this review is in full effect here, but the rock and roll attitude is as well. The album's longest song and closer, "Ei8ht", demonstrates how this is a band not confined to one approach. Bonilla's singing reaches its zenith here – the early passages are delivered with conviction and phrasing assured to impress many. Despite the longer duration, it isn't an occasion for The Von to lose the fearlessness defining everything that came before and they don't. Instead, the band offers up a convincing argument in song for why they are one of the most inventive, yet accessible, young rock bands working today.
FACEBOOK: https://www.facebook.com/thevon4u
4/5 Stars
Lydia Hillenburg