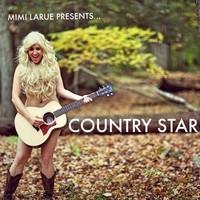 Biting and beautiful, Mimi LaRue's "Country Star" takes on the country music industry with absolute style. A brilliant parody the song at first adheres to the concepts of country: the guitar twang, the swinging rhythms, all show the hallmarks of country rock done right. Upon further exploration there are the clever lyrics. Her voice, sweet in all the right ways, delivers line after line of pure satirical perfection. Every single lyric, every word, is chosen for maximum impact. By offering such a critique of country music her music stands alongside other country musicians with a bit of hesitancy towards the country music industry, most notably Lambchop.
Brand new video for "Country Star":
https://youtu.be/cLwedp88Kl8
A rollicking rhythm introduces the song as the guitar lick starts things on just the right note. The song focuses on the journey to become a country star. However, as the song progresses, it reveals the ultimate inequality that exists within the industry, male-dominated, combative. Countering this she sings using harsher lines, further highlighting the madness that has taken hold over country music. Her lines cut like a knife through the industry's many problems. Focusing on such problems she lets her considerably more direct lines highlight exactly how the country industry views others, those outside of the circle. Opting out of the ridiculousness of country music, she goes for the jugular and the rewards are ample.
Smart, stylish, and simply unforgettable, Mimi LaRue's "Country Star" is a hilarious take on the ridiculousness of the country music industry.
https://facebook.com/mimilaruemusic/
Posted by Beach Sloth