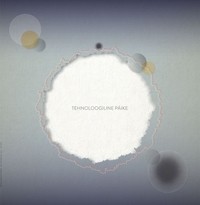 Playful with a nostalgic hue, Tehnoloogiline Päike's "Technological Sun" offers an ever-shifting array of colors and textures. Melodically sound the songs reference the early origins of electronic music as each one possesses a compelling poppy spirit that guides their sound forward. Throughout the album the songs shimmer with optimism as the analog sounds work wonders in creating a fully released sound. Rhythms are easy-going and rather light as their nimble sensibilities go in tandem with the celebratory melodies.
Completely wordless "This Means War" opens things on a meditative note. Percussive elements ring out offering a loose, almost tribal-like, take on tempo. Attention to detail is rewarded amply as the song builds up to a satisfying rush for its finale. Vocals serve as the heart and spirit of the neon-hued sounds of "Breaking It". Intense energy pours out of the piece as its many layers interact to create something deeply compelling. Introspective in tone is the tenderness of "So Many Days". With an elastic groove is the thoughtful sound of "If I Just Die" whose articulate lyrics mesh nicely with the easy-going melody. Akin to something like a rave up is the giddy work of "Redemption". This sound continues onward with the expansive psychedelic leanings of "Exit". Bringing things to a satisfying conclusion is the incredible delicate work of "Remember Me" whose sense of calm and purpose feel particularly apt.
Memorable and melodically sound "Technological Sun" has Tehnoloogiline Päike prove that electronic music has heart.
https://www.facebook.com/tpaike/
Posted by Beach Sloth