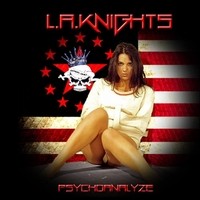 There's always going to be a market and an audience for big-anthem, riff-fueled, Rock-music – and as it turns out, looks like we've found one of its latest suppliers through the tunes of L.A. Knights and their new Psychoanalyze EP. While that audience for Hard-Rock and Metal isn't usually found in me necessarily all that often, I can still hear when it's all done right and would potentially appeal to YOU, which is pretty much why I exist at all.
I was sent the EP over a series of singles…apologies if I don't have the order completely correct! I started with what seemed like it would be the logical opener, a track called "Devil On My Heels." Quickly demonstrating a big sound of their own blended with the influence of Metallica, Van Halen and the Hard-Rock sound of the 80's/90's – L.A. Knights storm out with a live-sound that spans the atmosphere of "Devil On My Heels." You can hear that this is a complete entertainment unit: dynamic vocals, huge harmonies, massive guitar-riffs and cleverly placed drumbeats and fills that stoke the fire for a pure-rock anthem and immediate impact.
'Psychoanalyze' EP – https://soundcloud.com/la-knights/
The drummer for L.A. Knights deserves a LOT of credit – this guy is a monster of timing, precision and kick-drum fury. You can hear it in "Devil On My Heels," but the next track I turned on, "Dance" sounded like the guy was preparing for all-out WAR. Seriously intense, controlled and all-kinds-of pro – and then I look the guy up, and it turns out his name is Micheal "Damage" Gallagher – HAH! NO DOUBT DAMAGE – this guy beats the living shit out of those drums. "Dance" is like an audible clinic on how to fucking rock. A little more suited to my own taste on this one, it sounds more like a cross between KMFDM and the current direction of Finger Eleven. In other words, it rips through both the harder-edge of Rock and also finds a significantly powerful disguised Pop-hook to fuel the gigantic chorus. I mean…it's literally called "Dance" – I can't see there being any shame in them purposely taking on a vibe that makes you want to move, dance or just rock the fuck right out on this one.
I ended it all with the first-single to be released for their new record/title-track, "Psychoanalyze." This was a tougher one to examine…especially knowing that it's the first song intended to pull the people in. Do I think it's always the first song you put out there off the record that's supposed to draw the people in? Not necessarily…sometimes it's just as smart to test the waters and see where the music might fit without the full A-game on display or all the cards yet revealed – tons of bands do that too. Do I think that potentially "Dance" might do better for them? I do.
After examining them all and comparing these three tunes, I think that "Psychoanalyze" would be a little less accessible to the masses than "Dance" would be. Even though it's still based in its straight-ahead Rock-riffage, the verse itself is a little less A-to-B to the listening ear than the previous two songs. Does this final song have a more-powerful hook than the other two tracks? I could hear an argument for that…"Psychoanalyze" has a really addictive chorus and it's performed perfectly; it all has been really, these guys have been crushing it throughout their entire EP and never let up once. For real fans of that Traditional-Metal-meets-Hard-Rock sound – you won't be let down in the slightest in listening to the Psychoanalyze EP; and for the rest of you out there, you can try to resist these guys but I doubt it'll work!
Find out more about L.A. Knights through Facebook at: https://www.facebook.com/LA.Knights.Band
JER@SBS – http://sleepingbagstudios.ca/