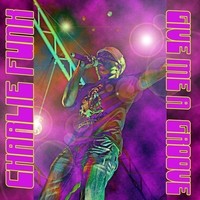 I'd wager a bet that our man Charlie Funk is onto something here with his new EP, Give Me A Groove; I mean…hell, I'd give him one myself if I thought he could possibly use any more than he's already got in him! He's written this six-song set with sharp focus and a whole crew of all-star talent, up to and including enlisting a former P-FUNK ALLSTAR among the crew to make this magic-music come to life. Demonstrating a range of sounds from Soul to Funk to R&B, he's out to clearly entertain on Give Me A Groove – and it's certainly working here as far as my own ears are concerned!
Stream:
https://soundcloud.com/charliefunktruegroove/sets/charlie-funk-give-me-a-groove
You can also tell that he's working with all-stars because he certainly is one – a true musician looking to excel at his craft and bring the best out of himself and his music. Also one that I'd be willing to bet has a solid foundation of knowledge of the music of old-schoolers from the genres he dips into that paved the way for many of the sounds & directions he takes his music on this record. The opening notes of the guitars on "Lunch In Babylon" would quickly make you question whether or not you're about to listen to the latest Guns & Roses album before it finds its way to an exciting, back-alley groove that resembles something more akin to what Quincy Jones would do. Complete with wild vocals and not-so-subtle social commentary – there's a winning combination of madness on "Lunch In Babylon" that is straight-up exciting. Love the mix on the bass, drums, guitars…the swirl & hypnotic-build of this track is pure genius; a seriously impressive start to a first experience listening to Charlie Funk…it sounds bold, confident and truly unique.
"Sexy Cutie" Video
https://www.youtube.com/watch?v=TKuqaykuZqk
Like many artists outside of the pure-mainstream, he makes a slight misstep on the second tune of the record, though nothing so brutal that you'd get up to turn it off or anything like that. No – it's that tendency to grab a cover tune and add it to a set of truly powerful songs whereby a serious connection you can hear and feel already exists. It's tough to do that with someone else's song, it really is; the odds of a person being able to take themselves into the exact kind of magic that another artist tapped into is a hard ask of even the best of us. Charlie Funk does an alright job with "It's Not Unusual" by Tom Jones – but compared to any of the original grooves he's tapped into, it audibly pales by comparison. It's all still well-played, sounds great and is performed well-enough – but on EVERY other track, you can hear how much more Charlie is capable of that you'll wonder what made him choose to take this cut on at all! It's missing that passion and connection that Funk has to the rest of his material…dangerously right on the edge of a karaoke, cruise-ship style in the performance.
If he didn't breakthrough and supply the undeniable goods like he does on "It's Not A Joke" I'd be much more upset by the TJ cover I'm sure, but the facts speak for themselves and Charlie is crushing it hard on the solid bass-line grooves of this second tune. A real nod to the Godfather of Soul, Mr. James Brown, or perhaps the smooth-sounds of bands like Sly And The Family Stone…everything about "It's Not A Joke" works to the maximum 100%. Exceptional work from the bass and trumpet on this entire record, but in particular, very noticeable just how much they're adding to the Charlie Funk sound overall on this third cut from the EP. "It's Not A Joke" glides and rolls along like it's a Cadillac on a cushion of air.
"Give Me A Groove" does a lot to further diversify the overall sound of the record…it's big and beefy like you'd expect and hope the title-track would be. Charlie's put the extra mustard onto this one and puts in his most confident performance on the EP so far, you can hear his enthusiasm for music & entertainment combine flawlessly into one on "Give Me A Groove." The range of the instruments and the wildness of the concepts and ideas in the writing often remind me of bands like Was Not Was – Charlie is clearly unafraid to go after any sound or style that he takes on and gets right into his music, collaborations and ideas. It's also a lot more up-tempo and designed to get you shakin' that rump of yours…so if you're the dancing-type, "Give Me A Groove" will easily find a home on your playlist.
The slow-funk of "Sexy Cutie" was another undeniable hit for Charlie. Solid performance once again, delivering vocals that pump-out attitude, style & smoothness with every breath – Charlie keeps this track as chilled as ice throughout, ending the Give Me A Groove EP on all the right notes and a real highlight. If I didn't know better, I'd even say that was an authentic KEYBOARD solo in there too wasn't it? Regardless of what causes the magic to happen, this rhythm and groove really makes the perfect ending to Funk's new EP…and the fact that he's doubled it up with the "Touchy Feely Remix" of this jam at the very end of the set…is normally something I wouldn't recommend. Usually you can end up wearing out one of your best songs twice as quickly in pulling that stunt.
In Charlie Funk's case…I'd take a third helping of "Sexy Cutie" – the slow, hypnotic funk combined with old-school R&B makes a memorable impact and keeps the rhyhtm rolling sly & steadily right to the end moments of Give Me A Groove; a thoroughly solid effort and pure pleasure to put on.
Find out more about the man himself at Charlie Funk's Facebook page: https://www.facebook.com/charliefunktruegroove
JER@SBS – http://sleepingbagstudios.ca/