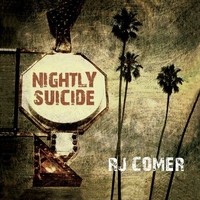 Formerly the front man of the Dance Hall Pimps, RJ Comer redefines his musical style with a stripped down version of Americana Rock. RJ released his new single "Nightly Suicide" on February 26th with an accompanying music video due out March 7th. This is first single off of his upcoming EP also named, Nightly Suicide and will be released on March 25th. The metaphorical title track is RJ's homage to Charles Bukowski—the poet laureate of barflies. The song also illustrates RJ's early life, which he describes as "a lot of heavy drinking and nightly self-destruction." Comer's gritty, soulful vocals and dark riffs authentically convey the stark and sometimes surreal lyrics and imagery of the song.
The music video is inspired by Bukowski's screenplay Barfly. Marcos Tinez plays the younger RJ, a lonesome alcoholic who is wearing the identical hat RJ is wearing in other clips of the music video to connect past and present. Directed by Guillermo Rodriguez, "Nightly Suicide" was filmed in Granada, Spain and at Los Angeles's legendary music venue, The Mint. The soon-to-be released EP Nightly Suicide will be available for presale on March 11th.
You don't have to watch the video to like a song or not and this is proof, but the video is a good promo tool for this because it's well produced and very simple, so it gets the point across for the actual story this song is about. The song itself rocks and swings in both a blues and country feel. The blues has this regional factor that the fans know all about, and this has its roots written all over it. It's a relaxing rocker to begin with, so it doesn't matter at the end of the day what it's even about. But that is just where it gets more interesting. The lyrics tell it all, but there is much more going on than putting them to some music. They carry each other well as the two elements should.
But to catch what the story is about, the video does help and that is what the review is about, to get the word out before the release. It does help make salivating for the EP a thing of even more interest if you hear the track and see the video clip. So, it works on all levels to get the buzz flying around. And to make no mistake in understanding the quality of talent here, this artists should be making full albums and touring nationally. I have a strong feeling that could soon be the case.
It kicks off with a slide guitar and follows a shuffle and some storyline concerning the poet begins, which includes a flash of him in the video. It's something most can somehow relate to, as it doesn't get too in depth about it. Just the life of excess that an alcoholic goes through and the title does the rest of the business. There isn't a lot more to describe in reviewing a video unless it's so complex you have to nearly do a thesis on it. Everyone is featured nicely and it's all filmed very well, so there is hardly a negative thing to day, other than it's not enough to write a whole lot about to give an opinion beyond the fact that it's obviously good.
The way the artist and the subject ties together is worth noting, and that is one way to look at it but it all comes back to the music and this is a good teaser for the EP, so if it's full of these I can say it will be a highly recommended release. But I also digress back to that also meaning to me that a full album would be better. Nothing to be shaved here for that, as the appropriately titled single is just one example from it. If you like a country sort of blues, as many fans do, then you will love this. But if you're looking for a more hard-edged and less traditional style, you might want to skip this altogether.
This isn't cowboy rock, but it's close because it does rock even though blues plays the strongest part in the sound. A sort of holier vibe is what you get though, rather than the average blues. It's an almost spooky feel. That's what I like about it, and it makes it easy to play on repeat. This isn't the work of an amateur either, that's for sure. The arrangement is second to none and the songwriting is world class. It has a stripped back approach and a very moody appeal. Some might even detect an easy listening influence, but I expect nothing of the sort for the upcoming EP that is worth a plug after a few viewings of this promo video clip.
I'm going with what the bio says, that it's an overall Americana thing, but would have to add that it's so much more. And not what fans of RJ are used to, as he redefines himself and you'd have to know him already to notice the stark contrast. This assures the EP release is worth seeking.
Purchase Link: https://itunes.apple.com/us/artist/rj-comer/id584490987
Larry Toering