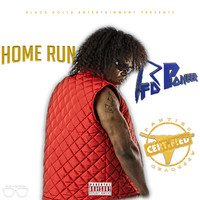 Optimism is at the very core of Rfd Pioneer's "Home Run". Production is pitch perfect with the crisp footwork production particularly fine. Rfd Pioneer's flow is incredible. Fast-paced while still highly articulate, Rfd Pioneer strikes the balance between the clever and celebratory. This is the kind of song that needs to be felt as much as heard. Little details work wonders. Gradual yet consistent evolution of the song helps it to work wonders. Anthemic this is the kind of song that does its best being blasted at the highest possible volume.
Rfd Pioneer 'Home Run":
"Home Run" opens up with an enormous amount of energy. With a rush of handclaps and hazy synthesizer, the song positively dominates. The high energy transforms into an inviting groove. Rfd Pioneer's vocals are impressive. About halfway through the song much of the sound drops out to reveal the song's carefully crafted structure. In fact, much of the song seems to incorporate elements of footwork's emphasis on the minimal with its same kind of meticulous deliberate percussion. Yet the thing about footwork is how it can create something so vital, so alive with the impeccable sound design. Rfd Pioneer certainly does this, as the song moves forward quite impressively. His vocals as well add to the song's power, alongs with his forceful powerful delivery. Towards the end of the song layer upon layer of sound comes into the mix before dissolving into the song's acid techno melody.
Buy: https://itunes.apple.com/us/album/home-run-single/id1073386212
Absolutely infectious with its nimble percussion and lyrical precision, everything works on Rfd Pioneer's "Home Run".
http://www.rfdpioneer.com
https://facebook.com/rfdpioneervisions/
Posted by Beach Sloth