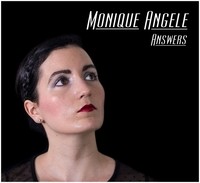 The very first chords of the song Answers by Monique Angele, – a Canadian singer-songwriter, now living in Sydney, Australia, – let me see that we'd got something interesting here. Having listened to all the songs from her recently released EP of the same name, I'd only convinced in that. It is about everything the album and the singer's creative work are: beginning with the uniqueness of the genre she's working in, and ending with the originality of the tunes.
I can't help but compare Monique's style with Amy Lee and Tarja Turunen's. Even though her sound is not a heavy metal/rock one like of the latter two, it is intense in no small part.
The unique pieces of art from the EP made me soar and transfer from the medieval Catholic Church with its indisputable hierarchy to Tolkien's imaginary worlds with elves and orcs fighting; from the 18th century opera, where I'm sitting in a beautiful exuberant dress with a hoop shirt, fanning myself; to a fantasy movie with dragons flying, and fairy creatures saving the world; from a gothic rock concert with its dark and dramatic atmosphere to a magical forest with startling, never yet seen animals living in a magnificent harmony. It's hard to depict how many different places the songs took me to, what a range of emotions they triggered in me, and how differently they made me feel.
Exquisite vocal harmonies, accompanying the lead Monique's voice, arise the sensation that you transcend beyond the limits of your physical body; while unexpected drum beats bring you back down to earth.
Monique's high-flying voice wakens imagination and makes you feel like closing your eyes and having some time on your own to explore the depths of your mind and soul. It takes you higher and higher, through the clouds and out to the limitless great spaces of the Universe. You forget yourself in these melodic sounds, drown in the ocean of your iridescence. No matter what your preferences in music are, Answers won't leave you untouched.
The singer's piano playing skill, – which derives from the vast experience of performing in opera and musical theater, – made it possible for her to express herself to a great extent through her creations and make others benefit from it. Somebody possessing such a fine talent must share it with the world, – I believe, it is their obligation to people; and I don't think, it is hard for them to do, – this is what they were born to do.
It is good, that Monique decided to build her solo career, even though her background helped her hone her skills and find her own one-of-a-kind fashion in music. Her first EP, which was self-titled, saw the world in January 2014. Shortly after the release the songwriter presented music videos for Poisonous Touch and Eyes to the audience. Her work has gained positive response of the public. I don't wonder why.
Complex, virtuostic, elegant and sharp tunes of Monique Angele deserve to be heard by the most sophisticated judges of music, as well as by the wide audience. Everyone has the right to know the Answers, which Monique has found in her creation.
I-TUNES: https://itunes.apple.com/ca/album/monique-angele-ep/id810105585
URL: http://www.moniqueangele.com/
Anastasia Shanueva