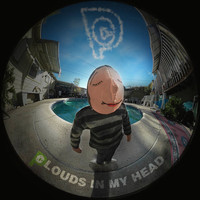 Using a collage of styles and sounds Pat Campo's "Clouds in my Head" is infectious indie rock done right. Pat Campo's approaches vary across the many pieces and his wide range recalls Beck's early, playful work. Elements of pop, dance, folk, psychedelic, and more are woven together into a coherent satisfying whole. Vocals help to tie the many pieces together, as does a sly and nimble approach. By taking such a flexible style Pat Campo's songs are able to evolve naturalistically making the songs feel positively alive.
Streaming links:
Soundcloud: https://soundcloud.com/patcampo
Bandcamp: https://patcampo.bandcamp.com/album/clouds-in-my-head
A good example of Pat Campo's versatility is the album opener "Something's Peeking". Opening up with a droning introspective groove akin to Wooden Shjips' work, the song gradually shifts into a full-on celebratory rush, with colorful synthesizers and an inviting groove. On "Self Destruction" colossal pounding drums drive the piece forward with great energy. More industrial in nature is the epic sound of "One Last Time". Playful in scope is the giddy work of "JTITM" whose clever lyricism make it one of the album's highlights. The sense of tension is palpable as is its bubbly melody. Cleverly merging elements of folk, pop, and electronica is the hybrid of "If You Go". With a spring-like sound is the hopeful sound of "Belong". Ending the album on passionate note is the absolute joy of "Retalia". From the shouted lyrics to the ever-growing sound, everything simply works.
Downright delightful Pat Campo's "Clouds in my Head" is powerful poetic pop.
Posted by Beach Sloth