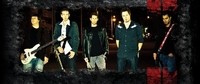 Aptly named, Dead Air Republic's "…With Extreme Prejudice" takes no prisoners. This is music that deserves to be played as loudly as possible. Dead Air Republic makes the kind of music that bludgeons the listener into submission. David Maltais and Richard Bent do phenomenal work with their blistering guitar solos that aim for the heavens. Serving as the backbone of the album is the energetic unstoppable force of the rhythm section, courtesy of Ben Barnes on bass guitar and the punishing percussion of Mike Derstroff on drums. Tying this all together are Marc Bourgon's forceful vocals. At no point throughout the collection is their the slightest letup for their sound is one that thrives on a continuous flirtation with near chaos.
Audio:
https://soundcloud.com/user-549962854/sets/with-extreme-prejudice
Wasting absolutely no time "Just Another Bullet" opens things on a high note. As the sound destroys everything in its path the band's interplay is admirable as is their relentless energy. "Example 1" begins with an absolutely astounding guitar work before Dead Air Republic truly get started. Drumming is incredible as the tempo moves at a breakneck pace. Atmospheric at first "The Waves" appears to go for threat at first, before it dives deep into maniacal solos and intense distortion. It is by far the highlight of the collection. Ending things with a literal wall of sound is "Enough Of This Mess" which by its finale reaches a final fevered pitch.
Dead Air Republic's "…With Extreme Prejudice" is metal rushing through with righteous fury.
Posted by Beach Sloth