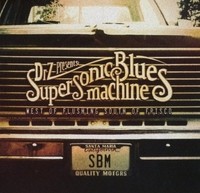 SBM consists of Lance Lopez on guitar and vocals, Fabrizio Grossi on bass, and Kenny Aronoff on drums. There's some interesting collaborations with blues veterans Billy F. Gibbons, Walter Trout, Warren Haynes, Robben Ford, Eric Gales, and Chris Duarte.
Buy: http://usa.mascotlabelgroup.com/supersonic-blues-machine
Running Whiskey has a distinctive ZZ Top sound, probably because it was co-written by Billy G., and features him on guitar and vocals. Miracle Man is straight up slow, twangy blues. Ain't No Love is a slow paced ballad. Bone Bucket Blues is an up paced shuffle. Let's Call It a Day is a nice apologetic ballad featuring Robben Ford. Watchagonnado is a slower paced bluesy relationship driven song. Can't Take It No More is a slow eerie ballad featuring Walter Trout. Let it Be is a ballad blues song, not a Beatles cover.
The lyrics on a lot of the songs (surprise) are standard blues issues, relationship based. There's definitely a lot of blues licks and guitar work on this release. A little bit of harp and B3 are occasionally mixed in. For all you blues guys, here's a new release with a lot of your favorite players!
By R.M. Engelman