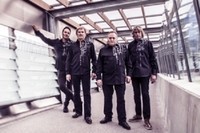 In the 1970's, Aunt Mary was Norway's answer to progressive rock. After breaking up in 1973, they got together on occasion to perform. Now, years later, they're back. The original singer and drummer had since passed away and were replaced. The current lineup consists of Bjorn Kristiansen on guitar, Bernt Bodal on bass, Glenn Lyse (2007 Norwegian Idol Winner) on vocals and guitar, Ole Tom Torjussen on drums, and Ola Aange on keyboards.
The release is definitely blues driven, but also 70's rock reminiscent. Unconditional Love is a nice ballad with a bit of Mott The Hoople sound. Slave Parade has that heavy 70's sound to it. Don't Keep Me Waiting is a strange sort of swing song. Hopelessly Lost is a medium paced blues offering. Happily Ever After is basically a slow blues ballad, and G Flat Road is a fast paced rocker. Open Your Eyes is another ballad. Blind Date is a slow heavier paced song. Been There Done That has an early blues structure with some slide/resonator guitar. Soladera is a slow deliberate pounding ballad with a sort of Genesis feel to it.
There is some nice guitar work by Bjorn on this offering. Glenn has a good rock voice that compliments this band. There's a good mix of tempos and song construction here. If you're a previous fan, there's some good news. They will be touring with TNT, Norway's first heavy-metal band. Check them out!
http://www.auntmaryband.com/the-band/
By R.M. Engelman