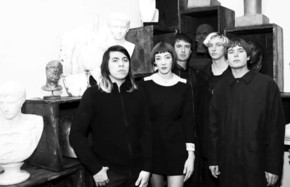 Los Angeles post-punk revivalists Drinking Flowers have shared the disorienting video for their catchy single "Black Monday" off of their upcoming album New Swirled Order.
Guitarist Alexander describes the making of the video…
"'Black Monday' is a simple and straightforward song. We originally imagined the video to be the same. We pictured normal people caught up in their mundane struggles, and a fairly linear plot. We came up with a story wrote a script and showed it to our bandmates. They all seemed to like it but some of them thought something was missing. We all agreed that we were way too weird to have a video full of cliches and regular happenings.