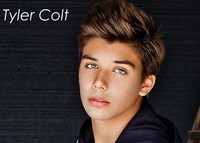 Tyler Colt's "Back To The Start" is a perfect kind of pop. With carefully crafted lyrics and a catchy melody the song builds up into something so extraordinary. Opening up with a muted guitar hook the song comes into full bloom after the swinging rhythm comes into the picture. Articulate lyrics reflect the kind of love that builds slowly. By letting the song gradually increase in strength and volume Tyler Colt is able to achieve something quite extraordinary at the song's finale as true love is found.
Tyler Colt – "Back To The Start"
https://www.youtube.com/watch?v=kjmIzDOZZ8A
"A New Day" has Tyler Colt reflecting upon the kind of love that gradually grows. Introspective at its very core the song is one of action. Beginning at first lamenting how a place can become extraordinary with the right person, Tyler Colt goes from simply dreaming about a special someone to working to get them. This renewed sense of purpose gives the song a sense of optimism. With a driving rhythm leading it forward Tyler Colt's "A New Day" shines with hope.
Tyler Colt – "A New Day" – Official Music Video
https://www.youtube.com/watch?v=sttYnNHn4IA
With a sense of play is the strength of Tyler Colt's "Look At Me". Everything simply works: from the tight rhythm section to the tenderness of the lyrics, Tyler Colt creates a story of self-discovery. At first starting off slow the song's infectious groove takes hold. Tyler Colt's lyrics serve as the emotional core of the piece, as the occasional chorus works wonders. By far the best part is how Tyler Colt grows in understanding, so by the end of the song he's discovered his true love.
Tyler Colt – "Look At Me" – Official Music Video
https://www.youtube.com/watch?v=WDfTzmUXSfg
http://tylercolt.com/
https://www.facebook.com/tylercoltmusic
Posted by Beach Sloth