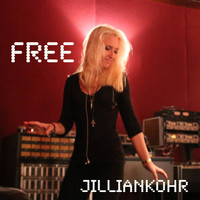 Jillian Kohr's "Free" is an impeccable ode to living life on one's own terms. Defiant at times Jillian Kohr creates a compelling series of songs. Her lyrics tie the pieces together creating a snapshot of a person. All a person's hope, dreams, and disappointments are captured fully and completely. Behind her is a band that has just the right kind of chops: able to offer a slow steady build as much as creating a jubilant celebration of the self. These are songs of hope.
Audio: https://jilliankohr.bandcamp.com/album/free
Things open up with the classic rock sheen of "Leave the Light On". Downright beautiful, Jillian Kohr's bluesy loving vocals are impeccable. Guitar and organ merge together to create a soothing whole. By far the highlight of the collection is title track "Free". On "Free" Jillian Kohr's lyrics look towards a bright shimmering future. This is accompanied by the giddy unstoppable rhythm that drives the song forward. Going towards darker territory "Liar Liar" a song about betrayal. Spacious and elegant the song is an ode to those who ultimately fail to deliver on their initial promise. With just the right amount of bite is the swinging sweet sounds of "Wrapped". Bringing the collection to a close is the spaghetti western inflected sound of "Mockingbird". Languid in tempo the song's slow and steady build is deeply satisfying.
Carefully crafted with great attention to detail, Jillian Kohr's "Free" is an absolute dream of a collection effortlessly bringing together elements of rock, blues, country, and pop into a satisfying whole.
Posted by Beach Sloth