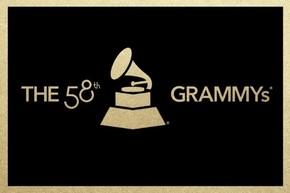 Millions will tune into the 58th annual Grammy Awards. One of the songs nominated for Record of the year – "Uptown Funk" by Mark Ronson featuring Bruno Mars – has already had to resolve a threated copyright infringement case by crediting the five composers of The Gap Band's 1979 song "Oops Upside Your Head." Listen to the songs back-to-back and you'll know why.
Last year's Grammy for Song of the Year (an award recognizing composers) was awarded to Sam Smith and the two co-authors of Smith's breakthrough hit "Stay with Me." This song's melody bore marked similarity to Tom Petty's 1989 hit "I Won't Back Down," so much so that Petty and his co-writer Jeff Lynne will now receive a portion of the publishing royalties generated by "Stay With Me" as a result of an out of court settlement with Smith and his co-authors. "Stay with Me" also won last year's Record of the Year Grammy.
Incredibly 2015 was not the only time in recent years that the Song of the Year Award went to a song that had clearly infringed the copyright of an early work. In 2009 Coldplay's "Vida la Vida" won Song of the Year just weeks after the band was accused of stealing the melody for the song from guitarist Joe Satriani's 2004 instrumental "If I Could Fly." Just as Sam Smith did in 2015 regarding Petty's "I Won't Back Down," Coldplay's members claimed they'd never heard Satriani's song. Unfortunately for them, the fact that Satriani's recording had been released on Epic, a major label, meant that Coldplay could have heard "If I Could Fly," whether they were aware of it or not. Proving "access" is a hurdle that any successful plagiarism suit must get over before going on to demonstrate "substantial similarity" between the two songs. For this reason we can presume that Coldplay was wise to settle with Satriani for an undisclosed sum.
Plagiarism is nothing new in pop music, of course, but the last few years have seen copyright infringement lawsuits involving several prominent hits. These included the lawsuit won by the family of Marvin Gaye (currently under appeal) against Pharrell Williams and Robin Thicke that claimed that the duo's song "Blurred Lines" – a massive hit for Thicke in 2013 – had copied from Marvin Gaye's 1977 hit "Got to Give it Up." Thicke had unwisely told an interviewer that in creating "Blurred Lines" he was seeking to do a song in the style of "Got to Give it Up," which he described as his all-time favorite song.
Thicke's comments about how he came up with his song reminded one of how John Lennon got in trouble by telling an interviewer in 1970 that he had written the Beatles "Come Together" by "parodizing" Chuck Berry's song "You Can't Catch Me." He claimed that he often used this technique to spark his creativity. However, the publishers of Berry's song brought legal action that Lennon settled by recording three songs from their catalog including "You Can't Catch Me" which appears on his Rock and Roll album.
Chuck Berry's music is a cornerstone of rock 'n roll, but he is underrated as a songwriter. Consider that three of the landmark songs of the 1960s (by three of the decade's most celebrated acts) were re-writes of Berry tune from the 1950s. In addition to the afore mentioned "Come Together" (the most streamed of all the Beatles songs on Spotify) the Beach Boys' first major hit "Surfin' U.S.A." is basically "Sweet Little Sixteen" with new lyrics, and Bob Dylan has admitted that his "Subterranean Homesick Blues" was inspired by Berry's "Brown Eyed Handsome Man." Berry is now listed as the co-author of "Sweet Little Sixteen" along with Brian Wilson of the Beach Boys.
Led Zeppelin is notorious for taking credit for songs that were clearly the work of others. Several songs from early albums have had to have their composing credits revised to list the song's rightful authors. This includes "Whole Lotta Love" which now lists Willie Dixon as a co-author and "Dazed and Confused" which now credits singer-songwriter Jake Holmes for inspiration. Dixon's song "You Need Love" (recorded by Muddy Waters and covered by the Small Faces) was turned into "Whole Lotta Love" while Holmes released his own composition "Dazed and Confused" on an album in 1967 and saw it lifted by Zeppelin without accreditation two years later. Just last year the family of the late Spirit guitarist Randy California sued Zeppelin claiming that they had swiped the first section of "Stairway to Heaven" from the song "Taurus," an instrumental that California composed for the first Spirit album, which was released in 1967.
So while some may complain of a dearth of originality in today's music, it's also true that by following in the footsteps of successful and respected artists like Brian Wilson, Bob Dylan, John Lennon, and Led Zeppelin, Sam Smith, Coldplay, and Mark Ronson are in very good company.
Tim English is a recognized authority on the topic of musical plagiarism in pop music. He has appeared on hundreds of radio programs in the U.S. U.K. and Canada. He is the winner of Independent Publisher's "Bronze Medal" for one of the best books of the year.
He is also the author of Popology: The Music of the Era in the Lives of Four Icons of the 1960s which examines the role of music in the lives of John and Robert Kennedy, Martin Luther King, and Thomas Merton.
Website: http://www.SoundsLikeTeenSpirit.com
https://www.facebook.com/Tim-English-1537497333239162/
The 2016 Edition of Sounds Like Teen Spirit can be purchased from www.amazon.com, www.barnesandnoble.com, and through all major booksellers.
By Tim English, author of Sounds Like Teen Spirit: Stolen Melodies, Ripped-Off Riffs, and the Secret History of Rock and Roll (2016 edition)