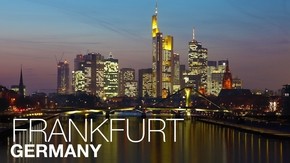 Frankfurt a. M. in Germany has always been home to a cool, creative and colourful music scene – in spite (or maybe because?) of the humongous amount of banks and businesses. Thus, it comes as no surprise that "Mainhattan" is host to many great concerts. In 2016, FFM will be visited by amazing Hip-Hop and R'n'B artists from all over the globe. Following, we'll present you just three of many fantastic concerts in Frankfurt, which you should definitely not miss!
Tricky presents "Skilled Mechanics" at the Zoom in FFM
OK. The name "Tricky" will send shivers down the spines of all passionate trip-hoppers. The artist Adrian Nicholas Thaws – a.k.a. Tricky – was born 1968 in Bristol. Thwas does not like to be shunted into any kind of style frame, but it is undeniable that he played a manger role in forming and influencing this music style. It seems to be his second nature to merge styles like Rock, Punk, 2-Tone and Hip-Hop into something new and exciting. Tricky today lives in Berlin where he is working on his new project "Skilled Mechanics". The easy going music cooperation consists of artists like DJ Milo, Luke Harris and the Chinese rap artist Ivy. Together with his unique vocals, they craft a very cool and mind blowing sound. The concert takes place on February 28, 2016. Tricky and the Skilled Mechanics will be performing at the "Zoom" and tickets can be purchased here.
Fanta 4 in Frankfurt – The godfathers of German Hip Hop!
The most famous German Hip-Hop band ever will be playing in Frankfurt on their "Vier und Jetzt" tour 16/17. The four gents from Stuttgart will be thrilling the crowd with great lyrics, an amazing performance and bone rattling beats. Smudo, Thomas D., Dee Jot Hausmarke und Andy Y. have been playing a fundamental part in creating the nowadays colourful and divers German hip-hop scene since 1989, when they rocked the stage for the first time. 1992 the four hip-hopers from Benz-Town topped the charts with their song "Die Da?!". The rest is – as the saying goes – history. The life acts of this band are legendary and never fail to leave their fans in a state of pure excitement. Be sure not to miss these great musicians on their upcoming tour! But until the Fantastischen Vier will be playing in Frankfurt, you need to practise yourself in patience – this concert in the Frankfurter Festhalle is due only on the 19th of January 2017. For more events in and around FFM have a look at http://eventful.com/frankfurt/events!
Attention! Hotness deluxe at the Gibson Club with "Tinashe"
Tinashe is a young, stunningly beautiful and very successful artist from the USA, who is breaking the main stream charts with modern R'n'B tunes. Her only German concert in the stylish ambience of the Gibson Club in Frankfurt will be spectacular. Tinashe's voice is amazing. On top, this lady has dance moves, which will leave you gasping for air! There is a great option for gentlemen, who would like to be part of this unique event with a stunning lady by their side. Frankfurt is home to the most exclusive escort agency Europe has to offer. To experience Tinashe in one of the coolest and exclusive clubs in this bustling city is surly going to be a highlight! So save the date: 10th of May 2016 starting from 8 pm.