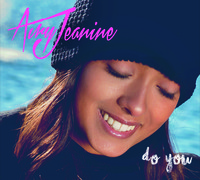 Airy Jeanine's "Do You" is a perfect pop song dedicated to unrequited love. Backed by crisp percussion the song positively bounces. The infectious groove is made just right, not too fast or slow, "Do You" glides by ever so gently. Neon-hued synthesizers help to lead the song forward. Lyrically the song reflects upon the infinite sadness that love can so often bring.
"Do You":
https://www.youtube.com/watch?v=jHWTzx_CRrg
Quiet spacious echoes introduce the song, like a gentle wakeup with the carefully crafted sounds akin to that of a ticking clock. Then the sudden drop into the deep end of the mix. Airy Jeanine's voice serves as the heart and soul of the track with all else branching off of her undeniably rich vocal delivery. Nostalgia peppers the lyrics as she thinks of the times spent together with a special someone and her reluctance to tell them. This shyness confines her for if she were to admit her true feelings it would be impossible for her to experience any of the joy their friendship brings. Friendship to love is always a complicated thing, and to navigate it can at times seem impossible. Airy Jeanine sings of how realizing that they do not feel the same way too would be too much. By not knowing she can continue to pine after them without the fear of rejection, simply feeling sad about how socialization can be such a contradictory thing: bringing joy and pain in equal doses.
PR Release:
http://www.prweb.com/releases/2016/01/prweb13151923.htm
Irresistible in every possible way, Airy Jeanine's "Do You" shows how good pop music can be.
http://www.airyjeanine.com/
https://www.facebook.com/AiryJeanineband
Posted by Beach Sloth