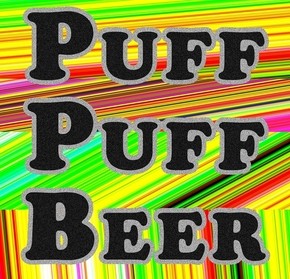 Okay now this is an exciting moment as we step into our first Skoped Out for 2016. So far so good in the new year so lets get right into it. Good news as AirPlay Direct is pleased to announce that we recently set a new landmark company record with registered radio member base now surpassing the 10,000 member mark globally. AirPlay Direct is the global, independent standard for radio distribution and promotion in 2016. This is cool news as well that I wanted to share, PromoWest Productions announced that it will be using RFID-enabled wristbands and cashless payment technology for the 2016 Bunbury Music Festival, set to take place June 3-5, at Sawyer Point and Yeatman's Cove in downtown Cincinnati. A few weeks before the festival, ticket purchasers will be mailed their personalized festival wristband and can register their wristband online beginning two weeks prior to the festival. I think that is just one less thing to worry about. Now lets get to my first guest of 2016 and that is Puff Puff Beer. I caught wind of these guys because first off I love their band name and I just find their sound so intriguing and it pulls you in. Just go to their Soundcloud and you will see what I mean. Join us today as Antione "Saxx" Simmons breaks it down about binge watching 'Breaking Bad', their diversity, Snapchat, and much more!
Stoli: Where are we talking from today and are you done holiday shopping?
No, I don't believe in Christmas. I mean don't get me wrong I like getting gifts and S* but all that extra Holyday shopping is way over my head. I have been spending my spare time binge watching Breaking Bad.
Stoli: I love the name of your band. Offer us a brief history how you came together and the name, Puff Puff Beer?
I use to work at a Circle K overnight shifts. Things can get a little weird at night. IDK It was a really sketchy time in my life and the name came from those moments spent in between the hang overs and the shame overs.
Stoli: I love & admire the diversity of your band. Was that on purpose or did it just come together like that?
I am from the South and I love Chopp and screw music. And the blues has always been my favorite form of rock. Ryan (the guitar player) is a class act and can play just about anything. We started jamming and a couple of 40oz and slpiffs. The rest is history
Stoli: Being that you all come from various music backgrounds how long did it take before you found your niche sound?
Too long. Damn. Its hard to roll all those genres into one. Around the "All about Love" album I would say..thats when we found the gems.
Stoli: Being there are 6 of you in the group how many times per week do you devote to music as a group?
It depends on what we are doing or got booked.
Stoli: I love your song "Richman." What does that song mean and what came first the lyrics or instrumentals?
I wrote that song when I was homeless. Living in a tree house in Berkley. Real hard time in my life. But a lot of great music came from it.
Stoli: What are two other bands that mixed an emcee with blues/rock that you guys respect & listen to?
That's a big question.. I Don't know. Anything from Kenny Rodgers to Too Short. We all are students of music.
Stoli: Your social media game is on point. What do you find most effective when it comes to interacting & meeting new fans?
I think the best form of social media is Snapchat. Cuz all the sh* you shoot and regret goes away after 24hrs. Dope. But a good ol hand shake is still the best way to meet people.
Stoli: When you are not doing music do you all hang out and what do you enjoy doing?
Watching movies and plays. Jamming is always a thing though. I been trying to figure out whats next for us in our down time.
Stoli: What do you prefer whether recording in studio or playing live?
We are a live band 100%
Stoli: What is coming up for Puff Puff Beer and where you @ online?
We will be dropping our next ep "GOONS" after the first of the year.
Check us out on:
https://www.facebook.com/Puff-Puff-Beer-366734803346629/
https://soundcloud.com/puffpuffbeer
http://puffpuffbeer.com/
and Pandora