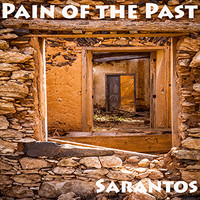 "Pain of the Past" shows Sarantos tapping into the gauzy sound of early 90s shoegaze. With a sense of nostalgia serving as the unifying theme of the song. Sarantos looks back towards the past, the sorts of things that can cause pain and last with a person through the rest of their lives. Such things help to define a person's life. The sadness of a break-up and let down can certainly linger far longer than anybody would like to admit. By letting the song build up Sarantos lets the piece have a little bit of hope as the future takes over, engulfing any of the disappointment that can come with past hurt.
Sarantos "Pain of the Past"
https://www.youtube.com/watch?v=Yh01J1JoRgU
https://soundcloud.com/sarantos-melogia/pain-of-the-past
With a atmospheric opening the song starts off quietly. Sounds positively glisten in the calm. From here Sarantos creates a full, layered sound. The guitar and synthesizer intertwine to create an easy, languid. Upon the entry of the drums into the mix the song begins to truly bloom. Much larger in scope, Sarantos sings passionately of the past. A sense of tragedy takes hold as the lyrics reference a much happier, earlier time. Expressive in tone the song grows ever larger, incorporating greater melodic elements. Towards the end of "Pain of the Past" all is unleashed resulting in a kaleidoscopic rush of color.
Sarantos lets his lyrics define "Pain of the Past" as all else grows from his clear confident vocals. Everything simply works to great effect as "Pain of the Past" lets the past slip away to reveal a gleaming soaring future.
Posted by Beach Sloth