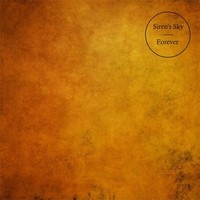 Siren's Sky is a collaborative effort consisting of guitarist Herbert Kaptein, and vocalists Esther Bredius, Lydia Salnikova, Jessica Rasche. The band is based in Rotterdam, Germany and their latest album, titled "Forever" was released November of last year.
One of the most dynamic and under the radar multi-talents on today's indie music scene, this exciting collaboration continues on a spiritually driven musical adventure that blossomed on her breakthrough 2014 recording entitled "Forever." All 3 vocalists clearly a seasoned vocal performers and I get the impression Kaptein is the mastermind behind all this. Enticing fans with their appealing Euro Rock flair, impassioned vocals, and infectious mystique Siren's Sky is impressive to the senses. Forever delivers everything the title implies. Here you will discover a carefully crafted collection of music that shines brightly and brilliantly. It contains 9 impassioned pieces. The first few tracks "Forever", "Cosmic" and "Blinded" create a solid first impression foundation for a timeless journey via memorable and stark songs. All pieces are extremely melodic and passionate. There are also clear-defined message of life. As the CD advances forward you can definitely hear the classic Euro Vocal Pop, Folk and Rock sound many adore. Especially in tracks "The Dream" and "Dance" this Epic musical environment Siren's Sky really shines.
As far as vocal style these four remind you of Kate Bush and Loreena McKennitt. Despite this each has their own unique style and vocal grace. Vocals from Bredius, Salnikova, Rasche deliver a seductive yet impassioned mezzo soprano that proves they are marquee performers. Kaptein delivers even keeled guitar performances on each track. The CD is filled with much in the way of passion, pin drop moments, amazing vocal work and solid playing via top tiered production value. My favorite song is a tossup between "Dance" and "Let Go". My hats off to Kaptein for writing some amazing material and bringing 3 very capable singers to the table These 3 sing songs the way they were meant to be sung with no "over the top" showboating. Whereas 90% of the Pop CD's out there right sound take this approach. This is an important factor for me when evaluating a CD like "Forever". Keeping this in mind I'd rather listen to Sirens Sky than 90% of the tacky cut and paste Pop albums out there right now. Overall, this latest release from Siren's Sky pulls out all the stops and will bring fascination and intrigue to your status quos.
Website: https://soundcloud.com/rockaboveclouds
Members: Herbert Kaptein, Esther Bredius, Lydia Salnikova, Jessica Rasche
4/5 Stars
Levi Curtis