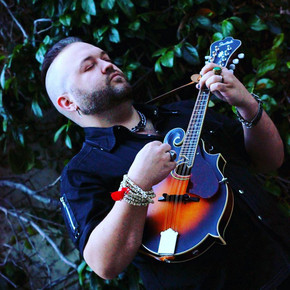 Independent Music Promotions announced today that Nic Nassuet's new record, the goth folk masterpiece Eleutherios has been selected as one of the top albums of the year by Global Music Awards. Pop Dose says of the record, "this album is one you'll keep around for a long, long time" while Examiner simply claims that Nassuets latest release is simply "Unique".
Nassuets presence on the list becomes all the more remarkable when considering that not only is he one of the only Americans on the list but he is also the only rock artist included. Furthermore, this list sees Nassuet rubbing elbows with music industry giants like composer Arthur Gottschalk, who has been recognized by the American Academy Of Arts And Letters, as well as Ron Korb who is favored to win the Grammy for Best New Age album.
Stream the album:
https://nicnassuet.bandcamp.com/album/eleutherios-2
In the midst of what may be the busiest period of his career Nic Nassuet has found himself enjoying a veritable embarrassment of riches, having most recently been awarded three gold medals from the Global Music Awards in the Album, Emerging Artists, and Alternative Rock: Gothic Folk categories. Beyond this, he has won multiple awards from both the Akademia Music Awards and the Veterans Creative Arts Competition. He has also earned nominations for the Indie Music Channel Awards for Best Folk Male Artist, Best Alternative Male Artist and Best Folk Recording.
"She Rides Moonlight":
"When It Falls":
https://nicnassuet.bandcamp.com/track/when-it-falls
About the record Nassuet remains humble and says "Some people have called our music "Innovative", but all that I do is listen to the sounds and voices that drift through me and blend them with instruments that I find appealing. For instance, I wanted the sound of a mandolin, so I bought one. A song came out of the instrument when I picked it up, and people really like that song. I still don't know the first thing about mandolins though. I don't even know the names of the strings, but people like the song."
The Global Music Awards recognition launches Nassuet into a very exciting 2016 which will see him touring intercontinentally and bringing his music to new frontiers. A veteran of The House Of Blues Sunset Strip and The World Famous Hollywood Magic Castle Nassuet is excited to get on the road and share his work with the people. In his words, "I love the energy of a good live performance when the audience is enthusiastic."
https://www.facebook.com/nassuet