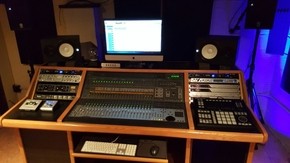 Hello again friends – I hope you had a great 2015 and expect an even better New Year! It was a SUPER busy year in the ATL, and we look forward to even bigger things coming in 2016!
Now that we are getting more help (thanks to fantastic Team Members like Elton Woods & Jonathan Walters!), you'll be seeing more content coming your way about projects with great folks like the Georgia Music Industry Association (www.gmia.org), Raw Truth Radio (www.rawtruthradio.com) and MKM Multimedia Works (www.mkmworks.com), which officially went into high speed this year with the opening of a brand new studio. As the spotlight continues shining on Atlanta, we're seeing even more films in production all over town as the motion picture, music and media industries all continue expanding in the new millennium by taking advantage of the latest technology. (It's official – we're ATLwood!!)
Plus we have tons of great, brand new toys and venues to visit, like the Trolley, Centennial Park Ferris Wheel, the World of Coca Cola, Georgia Aquarium, College Football Hall of Fame, National Center for Civil and Human Rights, the outgoing Georgia Dome, the incoming Mercedes Benz Stadium, the "South Marietta" Braves stadium and more!
Special shoutouts to "Great places for musicians to perform" like Centennial Olympic Park's Wednesday Windown, Center Stage/Club Vinyl/The Loft, The Cephora Lounge on Clairmont Road and favorite places on the outskirts, like Marietta's New Theater In The Square, The Palace of Jonesboro, Arizona's at Stonecrest and more you'll hear about in upcoming months. And if you're into recording like I am, there's not one – but a few great studios in our local network! We can always find one to fit to your needs, just reach out. With that said, watch out for an exclusive forum for SKOPE readers through my new STUDIO BYTES segments.
Well it's time to shove off for more multitasking now – I have to start my next "L.A. Jackson Show" on Raw Truth Radio and get a new Musicology book out (I'm up to #3 now), along with putting together some HOT new music for the Exposer compilation. Y'all remember to keep it moving in 2016!!
Enjoy the Official Song of the Exposer 4 music compilation, "COOL OPERATOR" by Reggae favorite Andrew Bees with Chyna Nicole
MP3: https://www.reverbnation.com/theandrewbees/song/19443990-cool-operator-remix-feat-chyna
Video: https://www.youtube.com/watch?v=HOQHAyZD6MA
Picture: Mixing Console