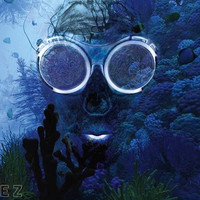 Keez's "Water Creatures" is a lush polychromatic album. Neon-hued with night vibes the songs possess infectious grooves and careful attention to detail. Playful in tone the songs have a party atmosphere that ties everything together. Airy in tone the songs range in style from the light on their feet dance work of "The Game" to the languid reggae-inflected sounds of "Paradise". Throughout the entire album what serves as the heart is Keez's reassuring vocals and thoughtful lyricism.
Stream and share the record: https://keez5.bandcamp.com
Opening things up on a high note is the tasteful, jazz-influenced work of "Motorcycle". With a more laid-back sound "Wake Up Calm" goes for languid tempos. Bright and shiny in delivery is the tenderness of "Give N Take". For this song Keez's lyrics focus on the idea of togetherness, of community, letting the song gain an inspirational point of view. Slinky and downright glorious is the album highlight of "Feels Right" where everything simply works, from the melody that glistens to the funk sensibility that features prominently on the piece. Going for a physical approach is the economical work of "Whiskey". Emotionally direct is the stripped down sound of "Mr Stallenbown" which opts for a classical kind of grandeur. Spacious in scope is the beauty of "Characters". Bringing the album to a close is the dreamy work of "Back in the Light", whose delicate balance works wonders.
Clever, poppy, and impeccably produced, Keez's "Water Creatures" is a perfect piece of pop.
Posted by Beach Sloth