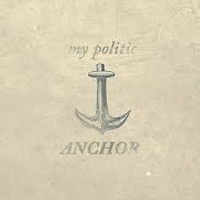 So across my desk slides the new 9 track CD from Nashville based 3 piece band "My Politic." "My Politic" are: Kaston Guffey (vocals/guitar), Nick Pankey (bkg.vocals/guitar), Wilson Conroy (bkg.vocals/banjo/dobro mandolin, banjo). During my initial research of these 3, there were a few lines from their bio that I really liked: It all began back in 2003 when Nick Pankey and Kaston Guffey met in the small town of Ozark, Missouri and played in several bands before forming My Politic in 2007. They recorded their first album, "A Few Words I Couldn't Find Yesterday" in 2008. After playing for years in the Springfield, MO area they decided to move to Boston, MA and try their luck on the East Coast. In 2012, "Could You Come Home" and "Oh My Love" from the Album "Younger Still," released in 2010, were featured on the Real L Word on the Showtime network. In 2013 their song "A Name For You and Me," also from their "Younger Still" album, was featured on MTV's Buckwild. In 2013, the band released their fifth album "Love and A Motor Home." Since forming the band has played countless shows across the US, which has helped solidify their Americana sound. My Politic made the move to Nashville, TN in the Fall of 2013 where they met their newest member Wilson Conroy, who has helped the band further realize their sound. They have started work on their sixth album. So far so good.
This band led by Guffey is a singer-songwriter who puts as much energy into their playing as they do their songwriting. How would I describe My Politic? Their infectious style of Americana Folk just a dash away from Bluegrass likened to David Gray jamming with Ryan Adams, and John Denver having a back porch picking session with Jerry Garcia – how about that?. Yeah that's how I would describe it. Their Americana fretwork lays the foundation for insightful lyrics often derived from an experienced writer/performer/artist. Some musical comparables for me include: Rob Thomas, Pat Monahan, Five for Fighting, Gavin Degrew, Daniel Powter. That's how diverse it is. Focusing on Guffey he adds his own distinct voice to those of his influences, creating an engaging combination of passion and presence mixed with storytelling and emotion. Guffey is clearly the standout talent within the unit. As I spun the CD, what I heard put a smile back on my face. It's a nice easy flowing record that delivers solid songwriting with a nice easy going feel to it. My Politic also reminded me of David John Mayer, Glen Ray LaMontagne and a touch of Amos Lee. However you will also hear a side of Blues and Alternative Rock and even Classic Bluegrass-American-Folk along the way. If you like the above bands and musical styles you should definitely check out this CD entitled 'Anchor" by My Politic.
My favorite tracks: Heartless, The Truth, God vs Evolution and Anchor.
This CD entitled "Anchor" by "My Politic" is a solid release with many feel good grooves and has a infectious Saloon style Folk feel to it. At the end of the day "My Politic" gives us a fresh glimpse at an amazing band from Nashville that takes us back a few years – before everything started sounding like – well like everything else. Need I say more?
BANDCAMP: https://mypolitic.bandcamp.com/
REVERBNATION: https://www.reverbnation.com/mypoliticmusic
Official Rating 4/5 Stars
Joshua Black