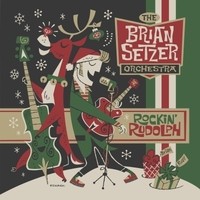 Brian started this orchestra thing some 25 years ago, always picking great musicians and showing his talent on leading the action. The release of Rockin' Rudolph (their first studio album in 10 years), coincides with their 12th Annual Christmas Rocks! Tour.
Brian was involved with all of the song arrangements. Even though the guitar is the lead instrument, it doesn't overwhelm the other individual instruments. The arrangements allow it to fit in where it needs to be, letting the other instruments take over when needed. The guitar work is very reminiscent of how someone like Les Paul would have handled this in the studio or live on TV back in the 40's-50's.
The Most Wonderful Time Of The Year is the tune that sounds the most like the traditional versions you've heard over the years. The instrumental O Little Town Of Bethlehem sounds like the big band version the WWII troops would have listened to. Another instrumental Swingin' Joy tastefully puts the guitar licks in and out of the horn section leads. Rockin' Around the Christmas Tree takes the Brenda Lee hit to a big band collides with Rockabilly level. Carol Of The Bells (given new life by TSO) is a really nice piece with the guitar playing off of the other instruments. Here Comes Santa Claus has a nice female backing chorus. Rockabilly Rudolph is a different rockabilly take on the traditional classic. Yaba-Daba Yuletide, is an interesting "Merry Christmas" variation on the Flintstones theme song, and the disc includes an extended version.
Nobody does the big band or Christmas big band thing better than Brian. Nobody gets better tone on their material than he does with a mere mix of the most basic of rigs, Fender tube amps, Gretsch axes, and an Echoplex. He always gets credit for being a great guitar player, but he's also a great singer and arranger. The live show couldn't be any better. Solid precision crafted musically elevated entertainment, worth driving to see and will definitely get you in the Christmas spirit!
By R.M. Engelman