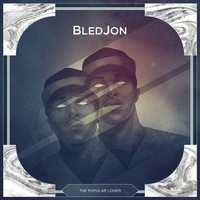 BledJon explores the smoothest of sounds on the impeccably produced "The Popular Loner". With a low key easy flow BledJon's songs have a certain dreamy quality to them. Remarkably tasteful BledJon's samples are extraordinary running the gamut from the casual jazz grooves of "Fievel" to the bleak electro soundscapes of "Mancala". Everything simply works. Tying these piece together is BledJon's unique talent for wordplay and creating a narrative for each particular piece.
Stream the album in full via Soundcloud:
https://soundcloud.com/emcee_bledjon/sets/the-popular-loner
Opening on the collection is the playful skit of "Intro to Infinity". The conversation mediates on anxiety. From there the lyrics and the sound embody pure tension. Playful in tone is the giddy work of "Doughnuts". Building up with such satisfaction the piece shows off BledJon's ability to effortlessly blend pop culture references into the overall story. Luxurious in tone is the laid back "Fievel" by far the highlight of the collection. Samples are woven in with the greatest of ease. Incredibly catchy everything on the song works from the melody to the stylish rhythm. Bombastic is the heavy bass of "Hard to Express". Rather tragic in tone is the paranoid work of "Mancala". Minimal in scope is the claustrophobic sound of "Piece of Mind" whose echoing sounds add to the sense of an inescapable place. Closing things off on a chaotic note is the kaleidoscopic work of "Passover".
"The Popular Loner" shows off BledJon's understanding of what it means to be alive, encompassing the joy and sadness that defines a life.
Vist BledJon on Facebook here:
https://www.facebook.com/emceebledjon
Posted by Beach Sloth