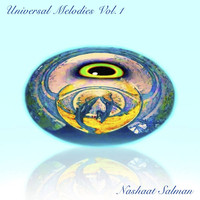 Hmmm…you know what I have got a hankering for? Some world-music…some tunes that come from another continent other than my own for a moment or two…
…oh hey look – it's Nashaat Salman – from Zurich! Right here, right now? I mean…that seems awfully convenient at the moment…but yeah – I'll take it! Let's have ourselves a listen or two to the new EP, Universal Melodies and see if I can get my head around the music from the opposite-side of the globe!
Stream the record:
https://universalmelodies.bandcamp.com/
Watch the music video for "Summer Night Joy":
https://www.youtube.com/watch?v=yiCaztshvOY
It would seem that there is actually a wonderful fusion of electronic-meets-world-music on this Universal Melodies EP, complete with an apt-title that implies the accessible-nature of these instrumental tunes from Nashaat Salman. It begins with "Summer Night Joy" – which, if you hadn't told me he was based out of Zurich beforehand, I would have certainly assumed a Spanish or Latin-influence as opposed to where it's coming from. A clever combination of expertly-played classical-guitar sounds and brilliant piano & saxophones lending their assistance throughout "Summer Night Joy;" with the additional trumpet-sounds providing real depth to the variety of sound on this one song alone – Nashaat Salman has added everything in perfectly as the song plays and even with a ton of elements all combining to create the music, it never feels overcrowded.
Of course…I can't attest to know anything about what's happening in the Zurich-based music-scene…but I can tell you there's definitely a market for songs like this on a worldwide scale. With tracks like "Dancing Star" and its clever combination of eastern-tinged sounds through the synth & sitar, the additional electro-element that gives it a modern-day presence could lead Nashaat & his music into soundtrack-work, videogame-scores and app-theme-music just as easily as it could to making full-albums of these rich-atmospheres and textural-music landscapes. More than enough beat & hook through these instrumentals to keep people's attention and keep them captivated…a song like "Dancing Star" is just as much fun as it is well-put together. Really interesting composition to it…overall it's quite impressive with the amount of smart choices and directions that Nashaat takes this song in; I don't know that you'll find it in the club anytime soon or on your top-40 radio-stations…but this is undeniably cool stuff to listen to and certainly worth a spin. The mix of worldly-atmospheres and clever twisting of it all together make for an excellent listen and there ARE stations out there outside of the top-40 crowd that do play music like this…hence the "Dancing Star (Radio Edit)" which immediately follows the original. It'd be a much more risky move to layout the middle of an EP with half of its entire length dedicated to one song were it not for the fact that "Dancing Star" in any form you can listen to it in…is a very charming and charismatic song you really don't want to stop…I think it could have been twice the length that it occupies and somehow I still wouldn't have minded.
Because largely, these electro-rhythms are gentle and inviting…very chilled-out and relaxing. I've had Universal Melodies on repeat for a while now…and I'm certainly in no rush to turn it off – it's an extremely enjoyable EP. Particularly, the final tune "Chasing" really hit the mark for me; it's a little more on the electro-side of the entire infusion of sounds throughout this record, maybe a little more modernized perhaps…but the real reasons it works so well is just how bright and beautifully assembled this rhythm is. Once again finding clever ways to keep the chill-vibe still massively-intense with all of the elements that combine to create its rhythm…it's a song like "Chasing" that really speaks to your ears and while the melody plays throughout, your brain starts to realize just how complex this gentle-natured tune really is.
Definitely a cool experience…Nashaat Salman is doing good work and I can't see anyone not enjoying what he's come up with on Universal Melodies. He's already got a fan here in Canada now…I'd assume the rest of the globe can't be that far behind – and depending on the route he takes and how he chooses to put his music out there…might arrive in your speakers somehow, someway a lot sooner than you think!
Find out more through Nashaat's official website at: http://www.universalmelodies.com/
Find him on Facebook:
https://www.facebook.com/Universalmelodies
Jer@SBS – http://sleepingbagstudios.ca/